Long before the name Saint-Louis became established in the very select circle of haute cristallerie, glass already held great influence in the Bitche region of France. In this northern part of the Vosges, which lent itself to alchemy and dreaming, everything was available to make the mystical union of sand and fire possible.
Set among a sprawling 8,000 acre forest, where fertile territory fosters imagination, the prestigious Saint-Louis escapes the ephemeral with more than 430 years of mouth-blown and hand-made crystal-glass designs ranging from tableware, vases, chandeliers, lighting items, furniture and decorative objects.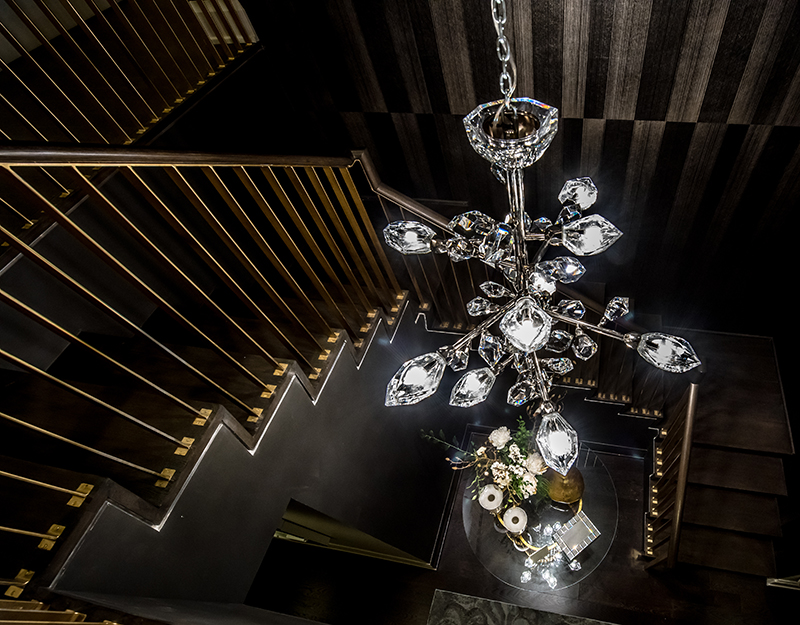 Contemporary since 1586, Saint-Louis holds the honor of being the oldest glass manufacturer in France and the first crystal glass manufacturer in continental Europe to produce lead crystal (1781). With King Louis XV's royal seal of approval in 1767, the company was named Royal Glassworks of France. The master glassmakers, proud and secretive, blew, engraved and cut glass without respite in their endeavor to produce the finest and most transparent glass possible. Italy and Bohemia were already producing crystalline, but it was the Englishman George Ravenscroft who perfected the technique for making genuine crystal. In 1781, experts at Saint-Louis solved the mystery. Since 1829, renamed Cristallerie royale de Saint-Louis, the manufacture is exclusively devoted to the production of crystal-glass items and introduced the concept of a set of glasses for the dining table with the Trianon service. Through aesthetic and formal innovations, rewarded with gold medals and grand orders, the art of living in crystal seduced the world including French royalty, nobility and the highest level of french society alike.
A pioneer in every regard, in 1837, Saint-Louis introduced the production of crystal that were tinted while remaining translucent, which was extremely rare until then. The colorings were achieved through the addition of certain metal oxides, for example gold to obtain red crystal. A layer of colored crystal could also be applied to the outside or inside of a piece of clear crystal, while it is still hot: a technique specific to Saint-Louis, known as double-layer coloring or cased crystal. Another is lustered coloring, which is obtained by applying a thin, translucent, colored layer of enamel by brush onto a piece of clear crystal. The object is then fired to vitrify the colored enamel. The English word "overlay" is used to describe what in France used to be termed doublé or triplé ("double-" or "triple-layer" crystal). Layers of clear crystal, enamel (an opaque white crystal) and opaline or translucent crystal of various colors are superposed and then cut to expose part of the lower layers, creating a form of decoration enhanced by the contrasting colors—this is also called casing. The Saint-Louis crystal works presented its first pieces in double- and triple- overlay on enamel at the French Industrial Exhibition of 1844.
With a dense, clear, sonorous and luminous character, Saint-Louis has stood the test of time with good reason. The company employs 200 dedicated master glassblowers and cutters in two main glassworks (hot and cold workshops), among them, are the very best in France — the "Meilleurs Ouvriers de France." These craftsmen and women possess irreplaceable knowledge and ancestral skills, passed on from generation to generation. Each craftsman has to train for at least 10 years before being able to make his own creations, showing just how important maintaining the highest level of preservation and respect for the ancestral know-how is to the esteemed brand. With their unrivaled skills, they've made Saint-Louis the master of colors and cuts. With a range more than 10 shades, mass-coloured or cased, and a multiplicity of cuttings from the emblematic diamond one, to the bevels through pearl, olive, star and cord cuts, the brand offers a large variety of styles and exceptional creations.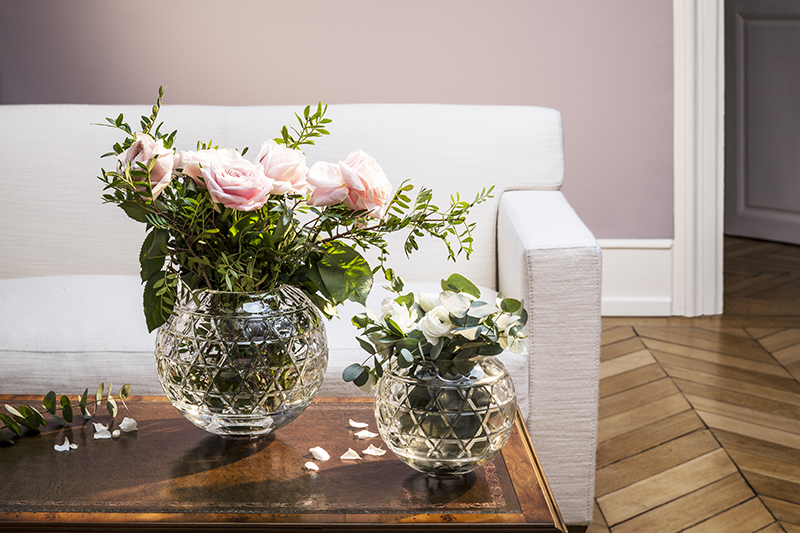 Saint-Louis is truly a manufactory of its time, a blend of tradition and innovation that never ceases to draw inspiration from contemporary artistic trends in order to renew and shape its identity. Comprised of a myriad selection of styles and artistic creations with the most intricate details, crystal is meticulously mouth-blown, hand-cut, hand-engraved and hand-decorated using 24-carat gold or platinum and is intended to be passed down from one generation to the next.
Worth noting is the gold décor technique distinct to Saint-Louis. Before 1835, glass was gilded by applying a thin gold leaf with a kind of adhesive. After this date, a brush was used to apply a coating obtained by mixing liquid 24-carat gold with a flux. Once fired, the gilded decor is polished (burnished) to a high shine with an agate stone or fine sand. Towards the late nineteenth century, the association of acid-etching and gilding gave rise to a new kind of delicate, precise decor highlighted by mat or shiny gilded decors.
In the wave of creativity that swept through the early 20th century, between Art Nouveau and Art Deco, external designers brought their talents to bear at Saint-Louis, artists such as Paul Nicolas, Jean Sala, Jean Luce, Michel Colle and Maurice Dufrêne, to name but a few. Part of the Hermès group since 1995, Saint-Louis continues to call on the imagination and skills of designers who open the way to new uses for crystal, bringing modern creativity to its classical roots. Tableware, decorative objects and lighting collections are enriched by the creations of Eric Gizard, Hervé van der Straeten, Ionna Vautrin, José Lévy, Kiki van Eijk, Noé Duchaufour-Lawrance, Paola Navone, further solidifying Saint-Louis as truly global Art de Vivre brand.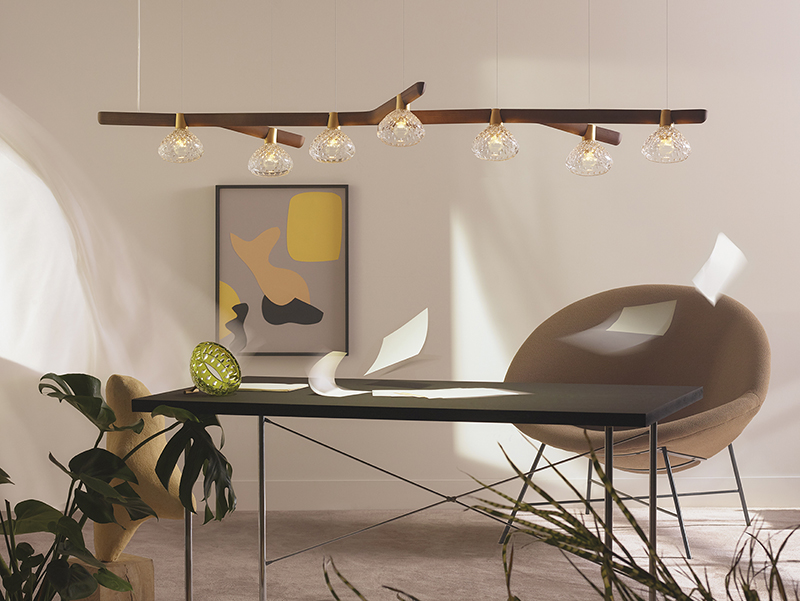 Know for it's etching, engraving and double layered colored crystal techniques, Saint-Louis is constantly revisiting its classics as well as working on developing its contemporary line, with the upcoming launch of new products and new finishes of its Vibration collection. The brand is also working on developing its hospitality offering by proposing new, affordable small fixtures (sconces, pendants). 
The brand's bespoke lighting fixtures, in both contemporary and timeless categories, are coveted by designers as they are customizable, meeting the demands of the most discerning clients'. Two launches a year bring new collections to light: one in January and one in September during Maison & Objet in Paris. The products are then shown to the U.S. market in Spring (Tabletop & ICFF) and Fall (Tabletop) in New York.
When in the Bitche region of France, a visit to the Saint-Louis Crystal Museum is a must. It started as a crystal storeroom, known as the "Achieves," a legendary treasure trove to which only a privileged few had access. With design by Paris-based Intégral architectural firm Lipsky+Rollet, opened in 2007 in the heart of the manufacture, they have both deployed and preserved the historical environment surrounding the thousands of objects that now make up the museum's holdings. Illustrating the four centuries of Saint-Louis' technical innovations and artistic creations, a visit here is one you won't forget.
Source Saint-Louis in the StyleRow Marketplace. To find out more about Saint-Louis, visit the website.