Taking his experience making ultra high-end cabinetry and furniture for well-resourced clients, Fyrn founder Ros Broughton, a fourth-generation furniture maker, set out to shift his focus by using those same skills to produce high quality objects, but making them more accessible to a broader clientele. With the help of co-founder David Charne, an experienced business operator who left the world of massive companies in order to stay closer to home and family, Fyrn seeks to change the way people relate to and value the objects they choose for their homes.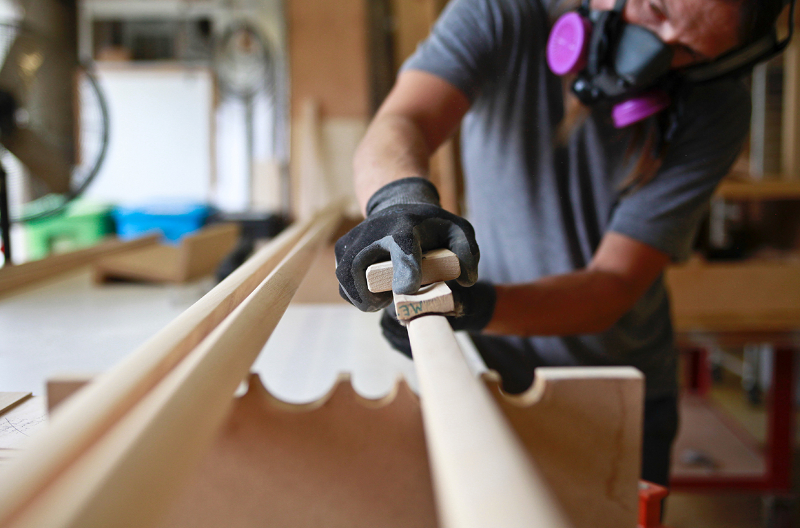 Derived from a prefix meaning, "Ancient, of old," Fyrn "strives to be thoughtful from design through delivery to create products that last a lifetime and become part of our customers' lives. We hope to inspire a move away from a disposable culture by creating a sense of connection between people, places and materials….We want each piece of furniture to have a story that grows richer over time as our customers' memories become ingrained in the life of the objects," says the brand.
Fyrn designs and manufactures its namesake furniture line in the Mission district of San Francisco, leveraging a family history of craftsmanship, proprietary hardware and unique machines designed and built in-house. "My family has been designing and making furniture since the early 1900's. My grandfather [Staff Broughton] helped revive production of the classic American Hitchcock chair in the 30's, and my father and brother were timber framers and door builders. Generations of woodworking and manufacturing experience go into everything we make. I'm privileged to work side-by-side with a group of talented people whose dedication make Fyrn what it is today," says Broughton.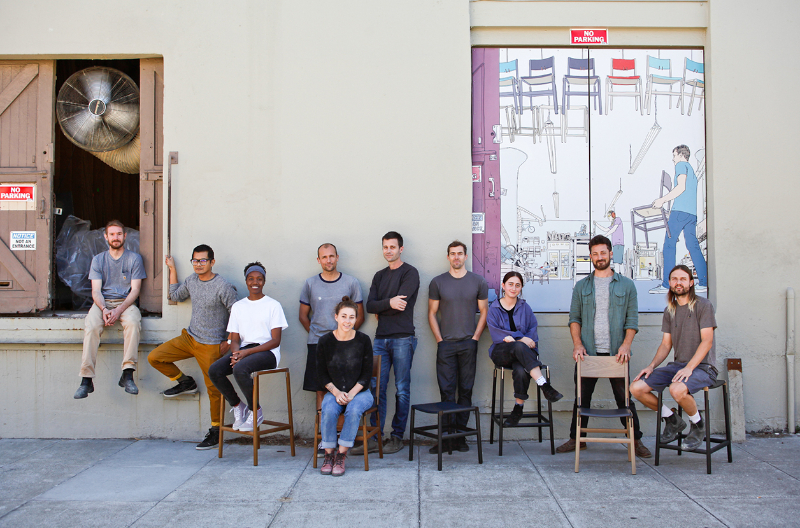 Since its launch, Fyrn has garnered a reputation for its award-winning, patented furniture system, the Stemn System. At the heart, is its patented Stemn Bracket that creates strength in the places where furniture fails most, while using fewer materials. The aluminum bracket is the centerpiece, conceptually and visually.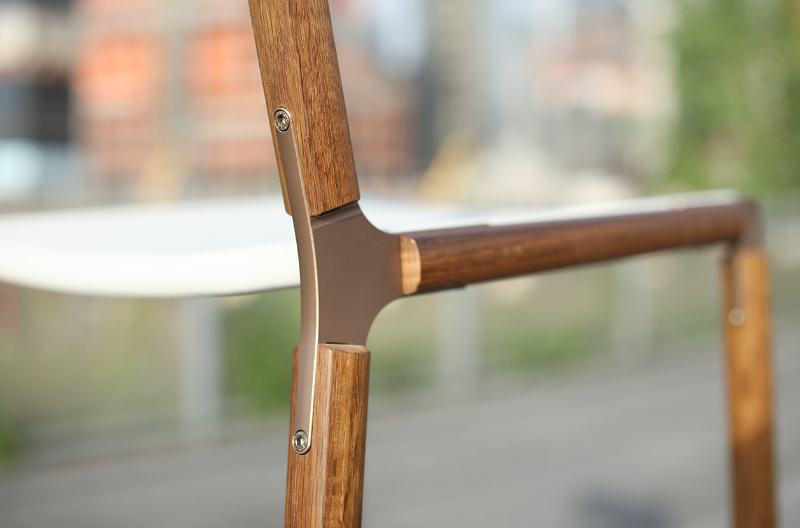 Simple in form, Fyrn's designs are sleek and modern but also durable, comfortable and designed to withstand high-traffic commercial environments while also fitting beautifully into residential homes. "We are straight-forward: we design uncomplicated, enduring objects. Our aesthetic is clean and our voice is direct. When in doubt, simple is better. By starting with basic needs, a place to sit, a table to eat around, we hope to bring people together; building closer families, stronger communities," says the brand. Not surprisingly, Fyrn is the chair of choice in a handful of favorite Bay Area restaurants, as well as being selected by individual consumers and designers throughout the United States and around the world.

"I was first attracted to Fyrn because their designs are sleek and modern, but the furniture is also durable and comfortable. They make pieces that feel inviting but offer a sense of elegance and structure. Once I had the opportunity to check out the production shop, I was even more enamored. I found their process inspiring, from design to production, assembly, and distribution. They were friendly and supportive from day one and it's great to not only support a local Bay Area small business much like ours, but also a business founded by and employing great people," says Melissa Perello, Michelin Star Chef and Restaurant Owner (Frances, Octavia, M. Georgina)
The materials that bring the clean lines and functional design of Fyrn to life are North American hardwoods, patented anodized aluminum brackets made in-house, stainless steel hardware and supple natural leather upholstery. Each piece is made to order in San Francisco, from an array of wood, metal and upholstery options. "We emphasize the strength of metal and the warmth of wood and upholstery. With the exception of the materials used when customers choose to upholster the furniture, all of our materials are sourced domestically and we focus on keeping the supply chain as close to production as possible. All parts are durable and 100% replaceable / repairable for life," says the brand.
A founding member of the GFDA – Good Future Design Alliance, "we come from generations of people that take pride in working with their hands to make useful and beautiful things. Drawing from our roots in furniture making, we are dedicated to furthering these meaningful traditions and values," says the brand. Fyrn's manufacturing system is supported by proprietary machines that are designed and built in-house to bridge craftsmanship with large scale production. "We can't produce a chair without an impact on the planet. So we make the best choices we can, acknowledge our impact and aim to reduce it through design that minimizes waste and maximizes the attributes of our materials," says the brand. "We take the extra time to find a solution that is close to home, a supplier that fits our values, a part that doesn't have to cross an ocean. We prefer a handshake over a phone call. American made and sourced is always our goal."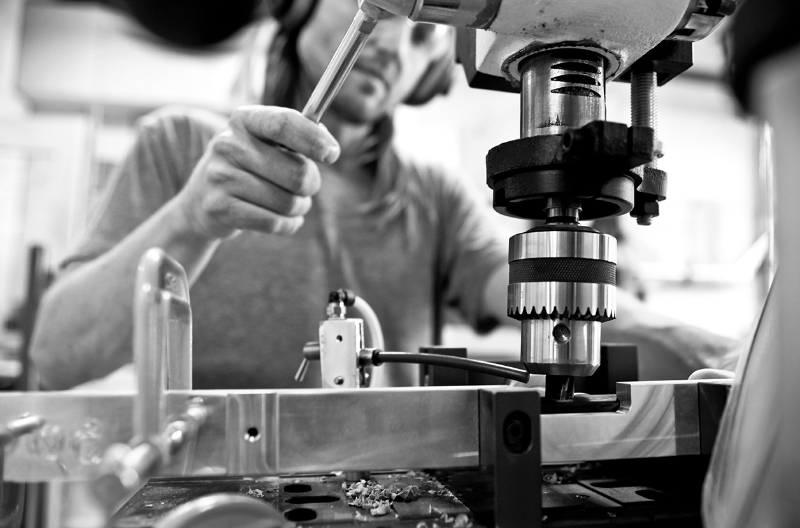 Fyrn has used furniture to "start a conversation about a cultural obsession with cheap goods, disposability, and the real cost of making something of quality here in the USA," says the brand. While it isn't important to Fyrn that one family keep one chair for generations,"what's important is that a chair, rather than being seen as a temporary stand-in until something slightly better comes along, is purchased, and is then seen as something that will last nearly forever, regardless of ownership," explains the brand. Fyrn wants a chair, when it has outlived its use for the owner, to be  passed along or sold to another family rather than tossed in the dumpster. "We focus a lot of energy on best-in-class customer programs that will support our goal of building things that are never thrown away. Our furniture system is intended to be circular, but to bring that to life we have to create education and support that goes beyond just the design and production of the furniture. By choosing Fyrn, if a consumer decides the furniture is not right for them we'll buy it back, refurbish the piece or re-use the parts, and then resell via the Fyrn Exchange. We want our chairs to last forever, and we've built the infrastructure to support that. We see every single purchase of one of our products as the first step in a hopefully lifelong relationship, one that can see these objects through changes in use, home or focus," says the brand.
"Fyrn designs and builds absolutely beautiful chairs and stools. I so appreciate their goal of making furniture that lasts for generations. They really care about the craft, and that is expressed so eloquently in their work. Their pieces are classic in form, comfortable and durable, and really a bargain if you look at them as lasting beyond us (something all great design should aspire to!)," says T.Olle Lundberg, Lundberg Design
The brand puts honesty and integrity at its forefront. "We never compromise quality or make decisions solely to maximize profit. Marketing is not a replacement for honesty, heart and hard work. We don't cut corners, exploit people or craft half-true messages to sell a product," says the brand. Fyrn wants to share with as many people as possible the feeling of touching or putting together a Stemn chair and "knowing that it isn't going to break in six months, or six years, or sixty. And that if, for some reason, it does Fyrn makes repair simple and feasible, allowing buyers to keep their Fyrn product as long as they want."  They further explain that the "emphasis on a lifetime is because that's the right thing to do, for today and for tomorrow. This approach leads to the use of fewer resources, it has emotional resonance, and there's something very special about an object that lasts," says the brand. Soon, Fyrn aims to offer a platform for discussions about sustainable consumption that encourages people to learn about the stories, people, materials, and processes inside the world of manufacturing. 
"It's nice to have a place to go to where you know the company practices have integrity and the product is made by good people in the most ethical way. Fyrn is a company that has thought about every aspect of their product so when I source it on behalf of my client there are just no worries about its quality or the design holding up or where it came from. It's one of the few completely drama free options in my work..plus it looks great anywhere," says Lauren Geremia, Geremia Design
Fyrn's Mariposa Standard Chair won Interior Design Magazine's "Best of The Year Awards" in the Residential Seating Side Chair Category. Fyrn's Stemn Series won the Jury and Popular Choice Awards for product design in the Furniture -Residential Seating category of the 2017 Architizer A+ Awards.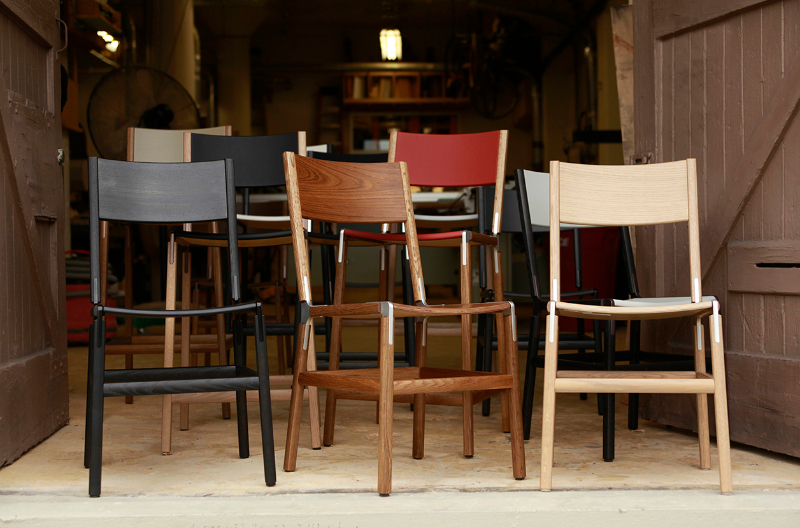 "Fyrn celebrates the beauty of assembly, the pledge of resource stewardship, and the authenticity of story. I admire each component of each collection as it is the aggregate outcome of this ethos. It's a great pleasure to curate the pairing of Fryn's exceptionally beautiful furniture within the spaces and experiences we create," says Lilian Asperin, Architect, WRNS Studio
Striving for at least one new collection a year, Fyrn has 40+ products in various stages of design, development and prototype—many of which are ready to come to market as soon as it completes its production facility expansion. The brand's Nested Table Series will be launching early next year. It will also be expanding the Stemn line to a wider array of products to provide an even more accessible range of furnishings that can withstand decades of use. Fyrn does not sell off the showroom floor but accepts rush orders as well as offering a QuickShip program.
Source Fyrn in the StyleRow Marketplace. To find out more, visit their website.