Drawing from more than 20 years experience in the interior design industry, Michele Dopp founded Fabric and Steel in 2015, with a fresh approach to designer sourced textiles. Having earned a degree in art history from New York University, the aesthetic of the F&S collection is informed by Dopp's education, experience, and passion for architecture and design. 
Artisan crafted textiles with a modern aesthetic, "Fabric and Steel echoes the conversation between place and texture. Our textiles reflect the relationship between the ephemeral interior, fleeting experiences and the permanent exterior of buildings. Beautiful, rough, architectural materials paired with refined, intimate design inspire the line," explains the brand.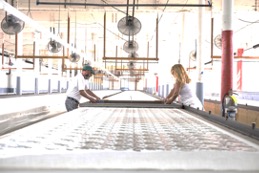 Eight collections comprise the current offerings, which are "thoughtfully designed and meticulously executed," to not only add aesthetic appeal but for everyday enjoyment. "We are intentional in our designs – to fit into the ways we live and see and feel today, but also timeless enough to be heirlooms," explains Dopp. While the fabrics are meant to experience a life of many years, Dopp explains,"…but our designs are emphatically of our time, a reflection of who we are and what matters now—they capture our moment, refuse imitation and integrity endures."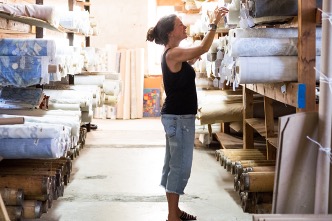 The brand ascribes to the principle that the best thing one can do is to keep what is acquired or pass it on. In support of this philosophy, F&S fabrics are timeless, durable and intentionally sustainable. "We use almost exclusively natural fibers, cultivated in Europe, as they have been for hundreds of years on the same carefully managed properties, in a sustainable manner. Our mills in Belgium strive to be carbon neutral and produce no toxic effluents," explains Dopp.
Designed in-house in Brooklyn, woven in Belgium, and hand screen printed in New England, F&S quality is not automated. "Our wovens are manufactured in Belgium in the best mills, often family-owned for multiple generations, and crafted by weavers that have a commitment to quality that is only achieved by passing that commitment from generation to generation. One of our favorite materials, flax linen, is sourced only from growers in France and Belgium, selected for long fibers that provide fabric strength 10 times that of cotton and is certified as fully European made. For our printed lines, we design all of our prints and forego digital printing. Our designs are transferred to screens in Pennsylvania and handprinted in New England. All by craftsmen and women with a true dedication to their craft," explains Dopp.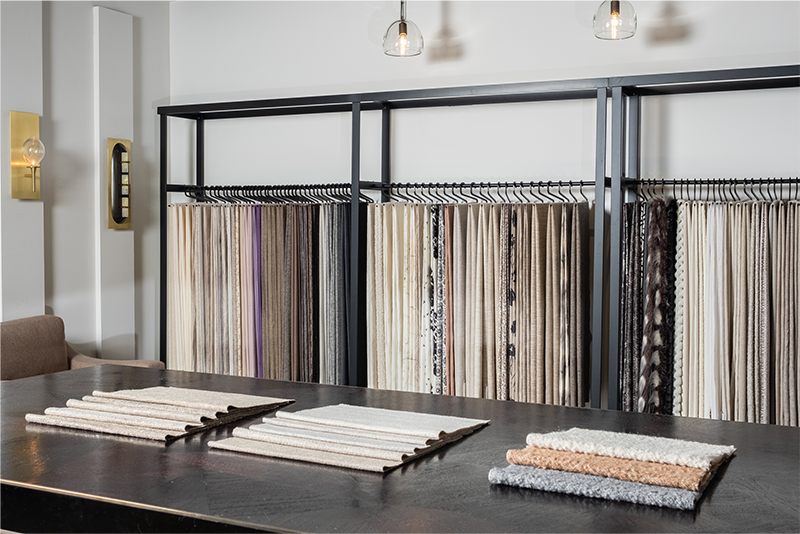 New collections are released twice per year, with new colorways released periodically. This year comes with it several new collections boasting interesting textures and unique finishes, "A mix of the unexpected," explains the Dopp. 
Recently released are the Terrain and Raw Plaster collections. With a neutral color palette including four colorways—Timber, Lake, Clay and Sand— inspired by water, wood, and earth—"Terrain embodies the organic in its materiality and its aesthetic—it feels like a life lived in comfortable spaces," explains the brand. Raw Plaster is made of heavyweight, textured linen coated with a light layer of plaster, available in two colorways—natural and white. "The plaster layer achieves a textural quality unachievable in the weave alone. This process gives the linen an architectural quality with the appearance of a beautiful patina on a plaster wall," explains the brand.