Formally trained in graphic design and typography at Rhode Island School of Design, Sarah Von Dreele has always been interested in visual systems and information design. Specifically, she turns to pattern as a way to visually organize spaces. Von Dreele founded Onethread Design, Inc., a New York-based design consultancy, in 2003. Then, one evening in 2016, with no formal education in painting, she decided to pick up a paint brush for the first time. While her initial intent was to use painting as a meditative outlet, the process of creating became a driving force in the trajectory of her career.
Von Dreele launched her eponymous brand of hand-painted wallpaper in 2019, which quickly garnered international attention from designers and publications alike. Upon her debut at ICFF 2019, she was named a "trend-setting designer" by Interior Design Magazine, and one of Architectural Digest PRO's "21 Favorite Furnishings" from the show. In late 2019, Von Dreele was named as a finalist in the Interior Design Magazine Best of Year Awards for her wallpaper line.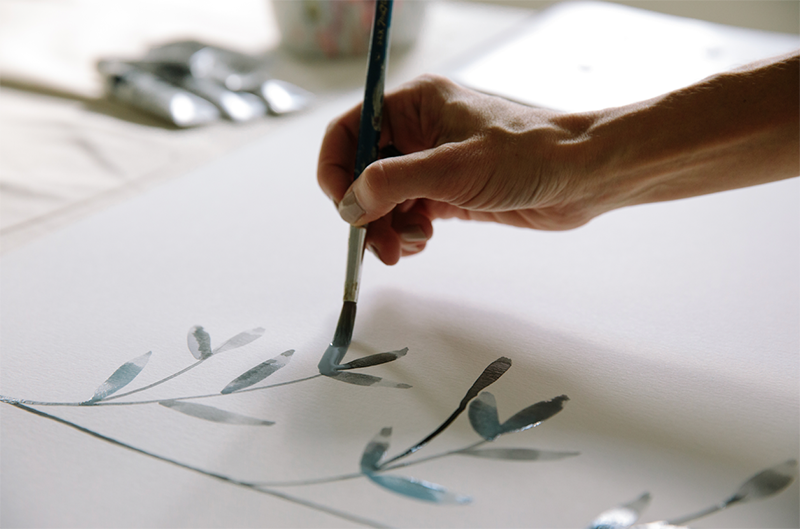 Produced in New England, all of her wallpaper and fabric designs begin as works on paper, hand-painted exclusively in gouache. She then translates these dreamlike works into her wallpaper collection, further exploring a moment, thought or relationship. Her designs stand as artifacts that retain and honor collective experiences while exploring color, form, and cadence. She finds inspiration in unique color relationships and their ability to evoke emotion, memory, and connection. Von Dreele's abstracted floral and geometric forms are ethereal and calm, lending themselves to a variety of applications for the curated home. Custom color palettes and ground options unique to specific projects continue to evolve the offerings.
Sarah Von Dreele Wallpapers are made from sustainable and renewable resources with sun-dried fibers that allow for low energy production; they are handwoven by skilled artisans on non-mechanized looms, and they are breathable and VOC-free. The made-to-order wallpapers are digitally printed with water-based, orderless latex inks, and the material is completely biodegradable at the end of its life cycle. New patterns, ground offerings and colorways are released twice annually.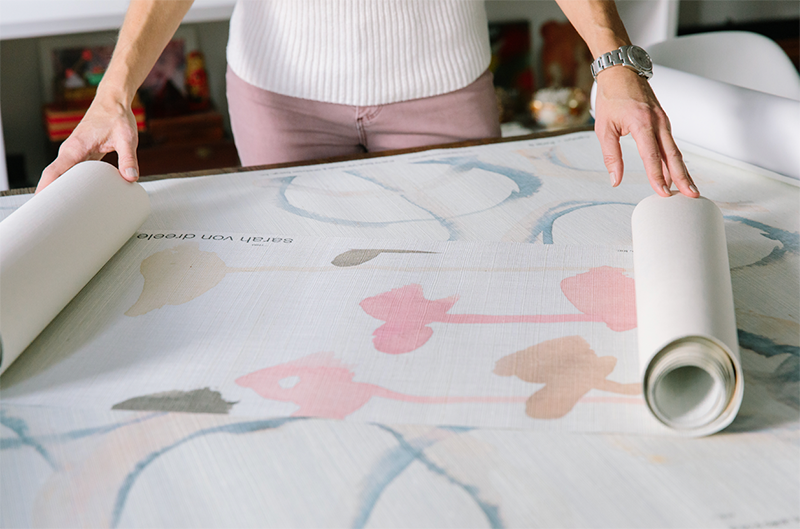 While the standard product lines provide a broad range of traditional and modern iconography and color palettes, the entire line can be customized through the specification of unique colors and ground materials. Coming from a creative services background in branding over the last 20 years, Von Dreele is accustomed to developing work that responds to creative directives and marketing strategies. Therefore, she welcomes commissions, partnerships and collaborations that extend the hand-painted designs to bespoke interiors and consumer products. These can range from murals and original framed artwork to custom textiles and color-palette shifts of existing patterns.
Sarah Von Dreele Wallpapers are available to the trade through the LEPERE showroom in New York, Hewn in San Francisco, and Twill & Texture in Miami. Her Studio Collection of more than 2,000 works of original art on paper is available directly through her website and can occasionally be spotted in the showrooms. A collection of goods for the home, including coasters and throw pillows, are available exclusively through CB2. Reproductions of her work are available to the trade through the London-based fine art publisher, Rosenstiels. Samples ship daily with six weeks standard lead time or two weeks rush lead time. 
View Sarah Von Dreele offerings in the StyleRow Marketplace. To find out more, visit their website.