Internationally known for its original designs, designer collaborations and custom capabilities, The Rug Company needs no introduction. Fusing dedication to the ancient craft of rug making, utmost craftsmanship and inventive designs with a commitment to socially responsible business practices, it well deserves the stellar reputation it has built over its more than two decades in business. 

California Poppy by Rodarte for The Rug Company in a project by Chroma
The brand believes that creation is a collaborative process. From its seasoned in-house studio to the world's most inspirational designers in the fields of fashion, design and architecture with whom it collaborates (think Kelly Wearstler, Paul Smith, Chihuly, Adam Hunter, Martyn Lawrence Bullard, Rodarte, Vivienne Westwood, among the many) design is the heart of everything the Rug Company does. "Our handknotted rugs are the result of the shared passion and dedication of a diverse network of people. One that ranges from the skilled weavers in Nepalese mills, to the dedicated teams laying the finished rugs in homes around the globe," explains the brand.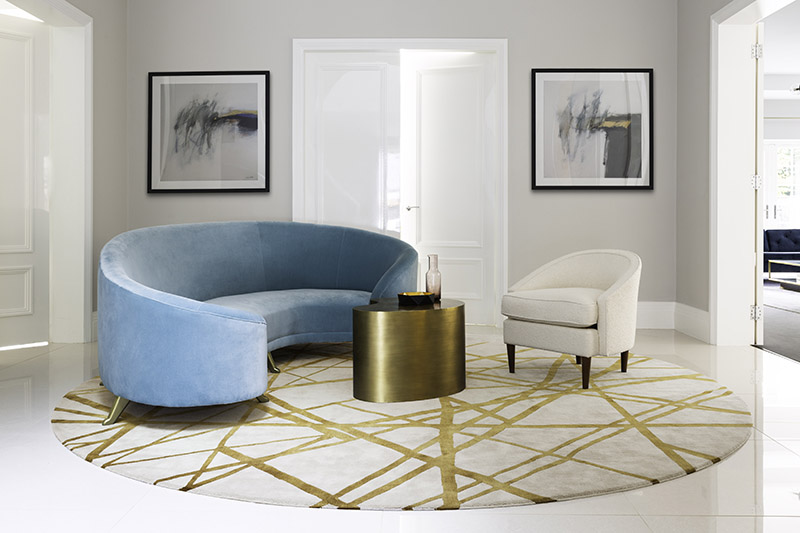 Channels Copper Round by Kelly Wearstler for The Rug Company
With showrooms spanning the globe, the brand explains "we have been driven by curiosity and a cultivated collector's eye, traveling far and wide to discover rare and exceptional pieces." Made to order and handcrafted in Nepal, rugs by The Rug Company are highly customizable in size, shape, color and material — bespoke pieces are a brand speciality. "There are many ways to make a rug by hand and many materials to choose from. Different yarns display different properties of strength, softness and luster. Some are smooth and cool to the touch while others are sumptuously soft and warm. Beyond the more obvious charms of wool, silk and cotton we have explored the merits of such diverse fibres as bamboo, banana leaf, mohair, merino and alpaca," says the brand.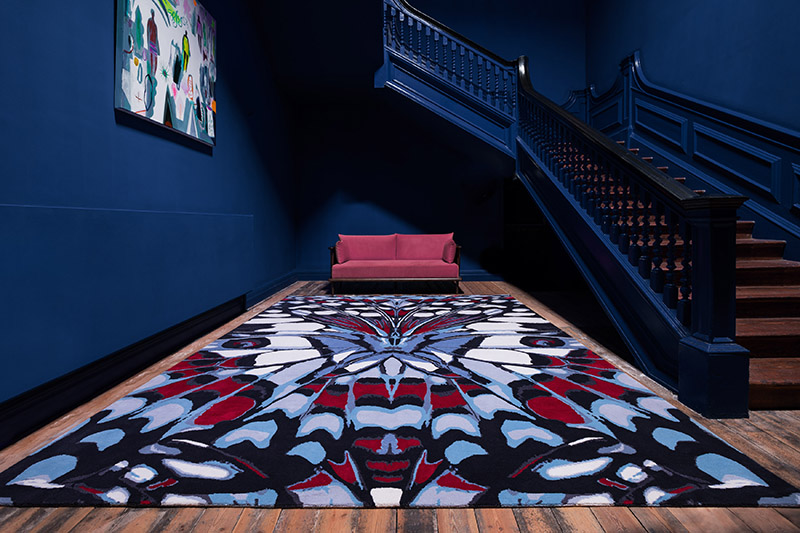 Beetle by Alexander McQueen for The Rug Company
Relying on the time-honored techniques employed by artisans for hundreds of years, each rug by The Rug Company takes four months to create and is built to last generations. "We have remained faithful to the natural materials, carefully preserving their inherent properties….We only use wool from high on the Tibetan plateau, wool so rich in natural lanolin that it is oily to touch. Our spinners, weavers and dyers handling it with reverence to retain its extraordinary properties," explains the brand.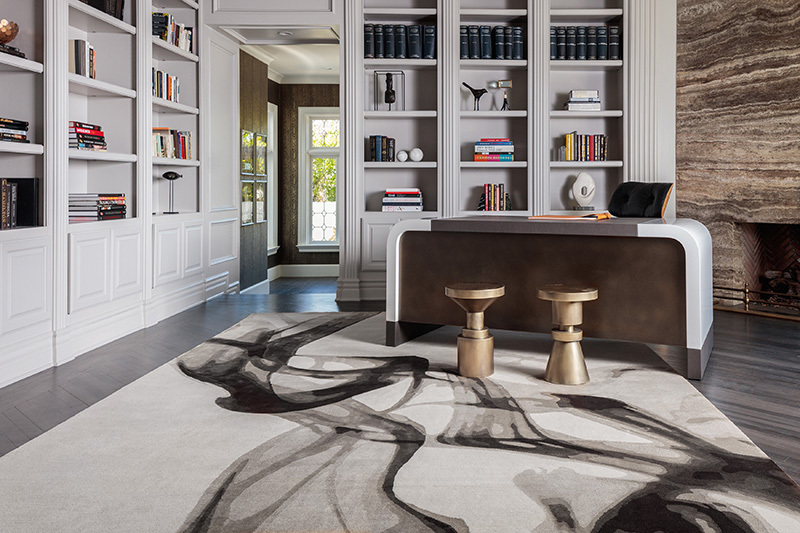 Smoke by Adam Hunter for The Rug Company
There are a multitude of ways in which a chosen yarn can be knotted and woven, twisted and looped when producing handmade rugs. "These differing techniques produce a range of textural surfaces, from fine and flat to chunky and shaggy," adds the brand. Equally as varied as the techniques in which the rugs are crafted are the designs themselves and the homes in which they are presented. From abstract design and Art Deco motifs to those inspired by nature, whether modern, transitional or classical in style, the brand's original pieces exude a timeless beauty.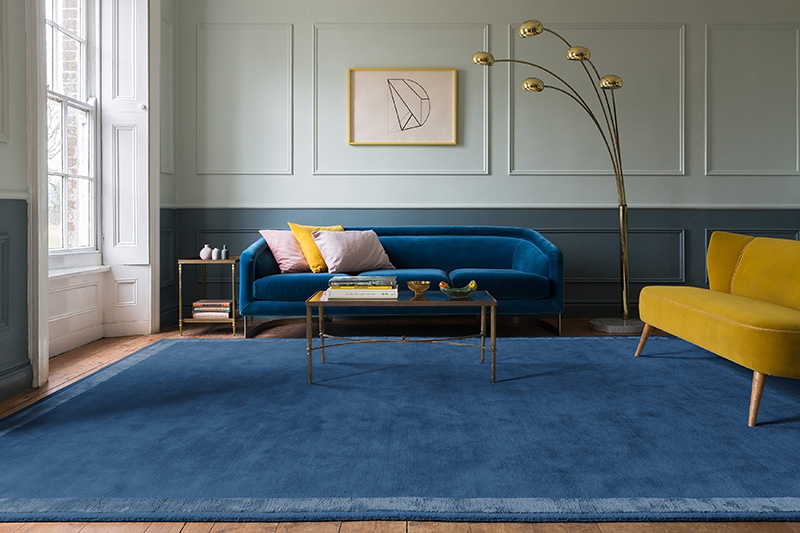 Bay Blue from the Complementary Colour Collection with Farrow & Ball x The Rug Company
The brand's commitment goes well beyond the allure of its looks. "Our craftspeople are at the heart of everything we do. We are proud to support the craftsmanship of Nepal and are pleased to champion a beautiful heritage which is in danger of extinction. Nepal's long and proud tradition of Tibetan weaving enables us to create rugs of unparalleled quality and beauty. We are the biggest importer of rugs from Nepal, making a vital contribution to the Nepalese economy and providing sustainable employment to a large number of people," explains the brand.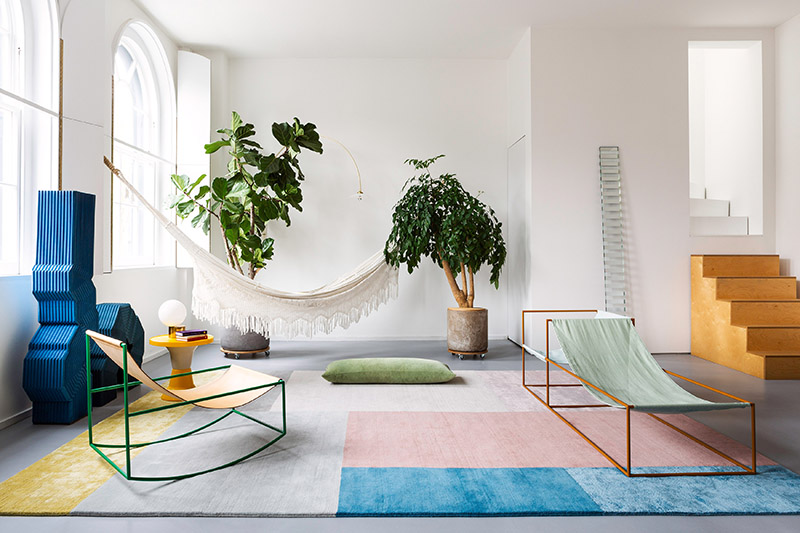 Anni by The Rug Company
As part of a larger social movement all rugs by The Rug Company are GoodWeave certified. GoodWeave is a non-profit organization dedicated to ensuring no child or forced labor is used in any of its registered productions. "The GoodWeave label is the best assurance that no child labor was employed in the making of that rug, and a percentage of the cost of labelled rugs goes to support grassroots social programs in India and Nepal. In order to be certified by GoodWeave, our weavers sign a legally binding contract to produce rugs without child labor, and to allow unannounced inspections of their workshops by GoodWeave agents," explains the brand.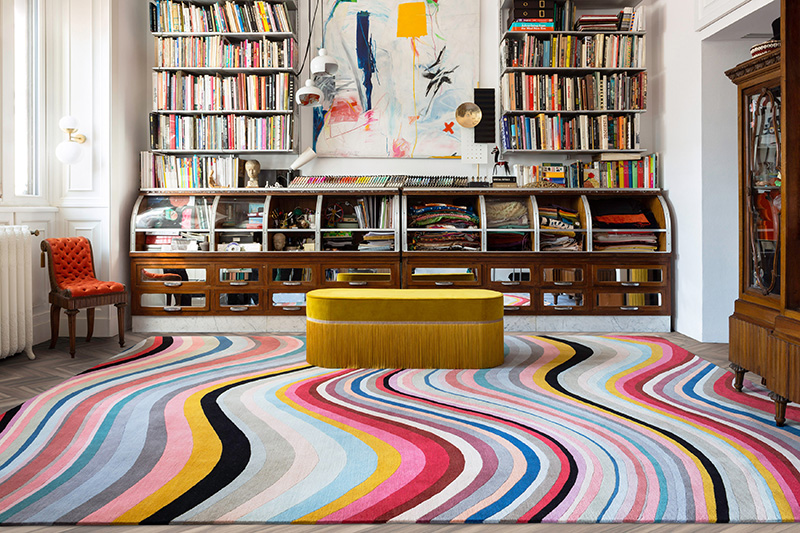 Modern Swirl by Paul Smith for The Rug Company
With the welfare of its weavers of paramount importance, The Rug Company calls upon an experienced consultant to assist it in ensuring it continually meets and exceeds local and international industry standards relating to all environmental and ethical aspects of the rug-making process. "In addition, we take further responsibility for the health and wellbeing of those whose hard work creates our rugs by providing mobile health clinics that visit our production centers on a regular basis," adds the brand. 
The Rug Company has two big launches per year, one in September / October and one in April, as well as smaller launches throughout the year. Source The Rug Company in the StyleRow Marketplace. To find out more, visit their website.