Offering the highest standards of responsible design and workmanship, family-owned New Moon Rugs strives to carry forward the thread of one of mankind's oldest art forms without being imitative and without compromising quality or social responsibility. Every stage of the rug-making process at New Moon is handled in-house and touched by hands. From hand-drawn sketches to hand-carded wool and hand-spun yarns, the living chain that creates its rugs is vibrant and intertwined.
New Moon is the brainchild of founder John Kurtz, an artist and renowned rug historian with a love and appreciation for beautiful things, and for the way in which beautiful things are made. As a painter, Kurtz trained at the Pennsylvania Academy of the Fine Arts and the Accademia di Belle Arti in Florence. For more than 40 years, he has nurtured and deepened his passion for the world of handmade rugs.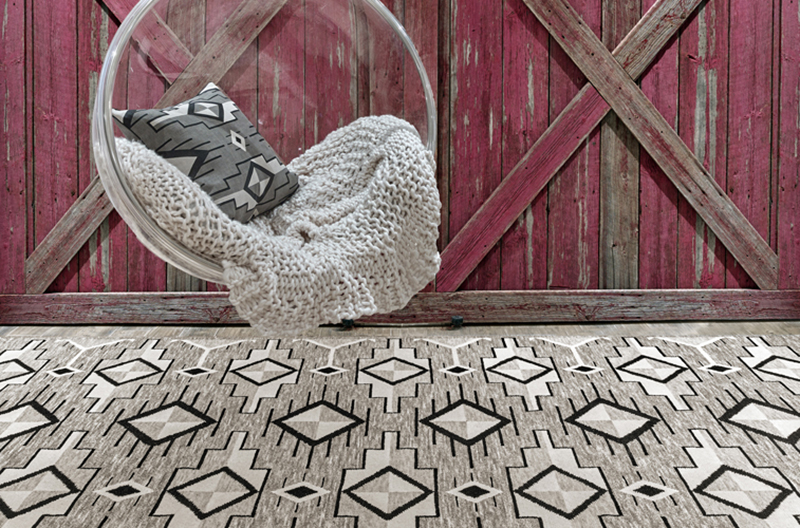 Starting out as an antique rug collector and dealer in the living room of his home, and later moving into a gallery where his business grew for 20 years, Kurtz enthusiastically searched for beautiful antique rugs and shared them with collectors from around the world. Early in his career, he was inspired to bring the wonderful art of rug weaving to an even larger audience. He did so with his popular PBS series "Art Underfoot," which ran from 1988 to 1992, and then again on HGTV, introducing millions of viewers to the world of oriental rugs.
At the invitation of the USAID, Kurtz was invited to Nepal to advise the rug industry on the ways to best capture a larger share of the U.S. rug market for the country. It was during this time that Kurtz began exploring the idea of creating his own line of rugs and envisioned Nepal as a possible home for the production. Two main goals became the focus of his attention during the brainstorming for New Moon – the artistic integrity of the design and structure, and the integrity of the culture in which the design would be transformed from a painting into a work of art for the floor. Kurtz found an extraordinary partner in Nepal with whom he could make this vision a reality, and New Moon was founded. Since its inception in 1993, Kurtz has been uniting his dedication to the highest standards of craftsmanship and design with his commitment to socially responsible business practices.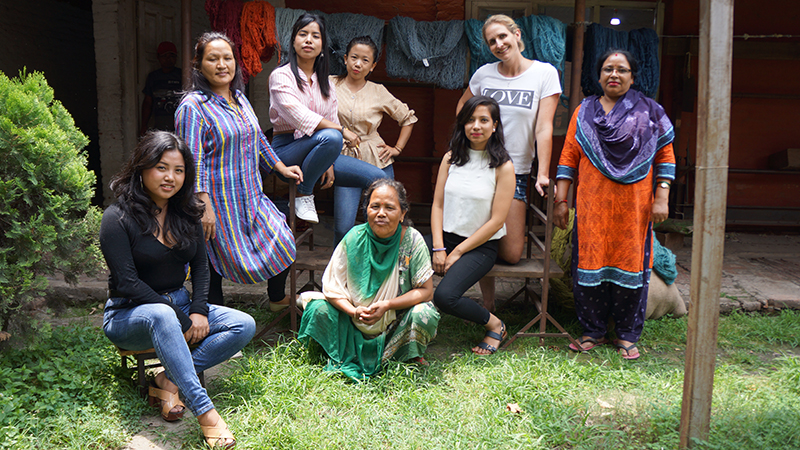 Following her father's path, Kurtz's daughter Erika joined the New Moon team in 2004. Having grown up exploring the world with her father on his business travels, her global experiences influenced her understanding of business and her take on art and design. With extensive experience in the Tibetan rug industry and spending a significant amount of time every year in Nepal, Erika has first-hand knowledge about all areas of production and customization. She takes pride in participating first-hand in all of New Moon's custom creations and is guiding the company in new and exciting directions.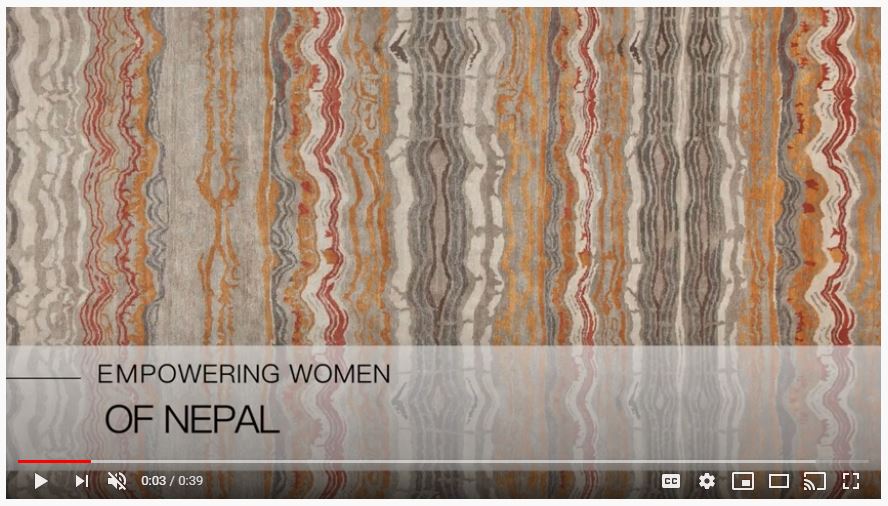 While their unique, proprietary designs garner attention from magazines and designers alike, it's the craftsmanship of its construction that truly sets the brand apart. Hand-woven from Tibetan wool using vegetal dyes, New Moon rugs are designed to last and grow more exquisite with time. It begins with the brand's dedication to supporting the traditions, cultures, and artistry of its weaving communities and creating working environments that are rooted in respect, integrity, and opportunity.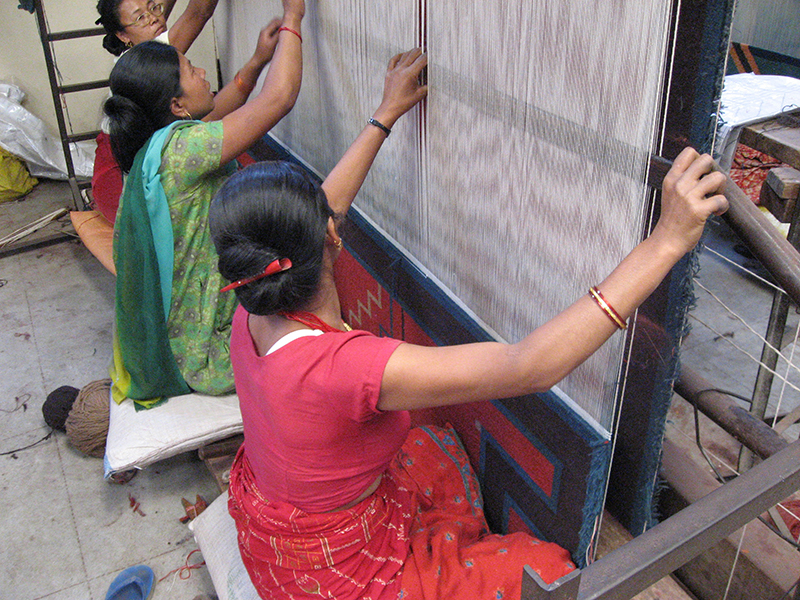 Unlike the vast preponderance of rugs now coming from Nepal, New Moon continues the age-old traditions of true Tibetan weaving– no shortcuts, no compromises.  In New Moon's 'crossed' weaving, each successive row of knots is locked into place by pulling alternate rows of warps forward on the loom, passing the weft between the separated warps and pounding down tightly. This is more difficult, more time-consuming, and therefore more expensive. But it is also the only way to make a lasting rug. It forms an interlocked foundation, over and under like a tennis racket. These are the true 'lifetime rugs', lasting for generations. 'Uncrossed' rugs are literally 'hollow.' There is nothing holding their foundations together. Due to the complexity of the designs, New Moon weavers are the most highly skilled weavers in Nepal, as well as the highest-paid. Because of the skill and time it takes to weave a New Moon rug, weavers are paid more and thus are not forced to work longer hours to make a fair wage.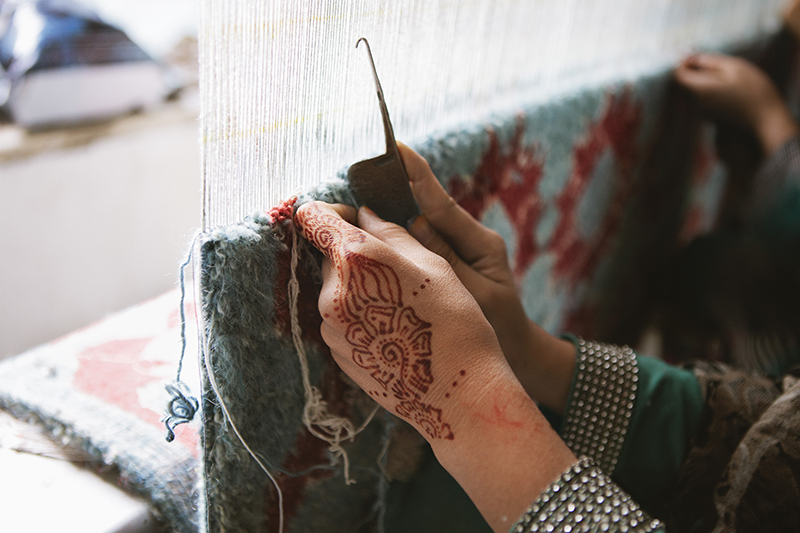 With an eclectic style, New Moon designs are as varied as the homes they grace. From traditional design motifs to lush atmospherics, and whimsical narrative pieces, the brand's rug designs are all united in their exceptional quality, colors, and materials. New Moon exclusively uses hand-spun Tibetan wool, Chinese silk, and other natural fibers—no synthetics. Combining these materials in unique ways provides for an array of wonderful textures, pile heights, and extraordinary designs.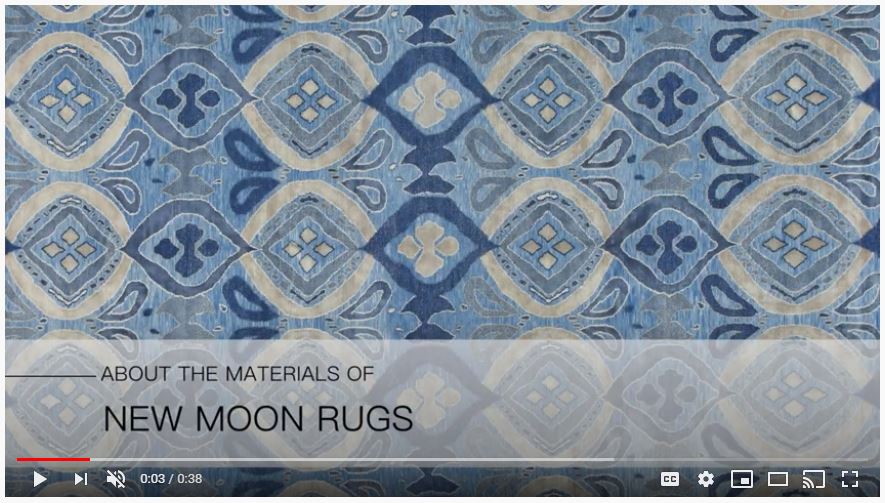 Recognized as the original in Southwestern-inspired pile rugs, replacing the traditional flat weave typical of Navajo rugs, New Moon's Mesa Luxury Lodge Collection is soft with a thick pile. The results are a luxurious texture, unbelievable comfort, superior quality, and durability. Well versed in a variety of techniques, the New Moon design team loves working with designers to customize existing designs to fit their project, but also excels at working together to create completely bespoke designs. Being a small, tightly-knit company, designers have unequaled access to work directly with the owners and key members of the design and production team to create true works of art underfoot.
New Moon launches new designs throughout the year. The latest to launch are the Textures & Bariloche collections. Textures, handwoven in Nepal, is all about casual elegance, comfort, and barefoot living. Neutral tones, textural weaves, simple patterns, and an elegant yet unstructured vibe make these rugs incredibly versatile and inviting. With several different weaves from which to choose and a variety of natural wools from around the world, the Textures Collection is an easy and elegant way to add warmth and character to a room. The Bariloche collection is inspired by the ruggedly beautiful countryside of the Andes. Handwoven in India, this textural collection of eclectic patterns is woven with a combination of Kilim flatweave and Persian knotted pile. This high-low weaving technique creates a unique dimensionality and visual interest in each design. Natural wool variations and natural dyes create layers and striations of colors throughout. Next up for the brand is a mini-collection of hand-knotted designs. Currently in the design phase, it's planned to launch by the end of the year, as long as Covid restrictions don't cause a delay.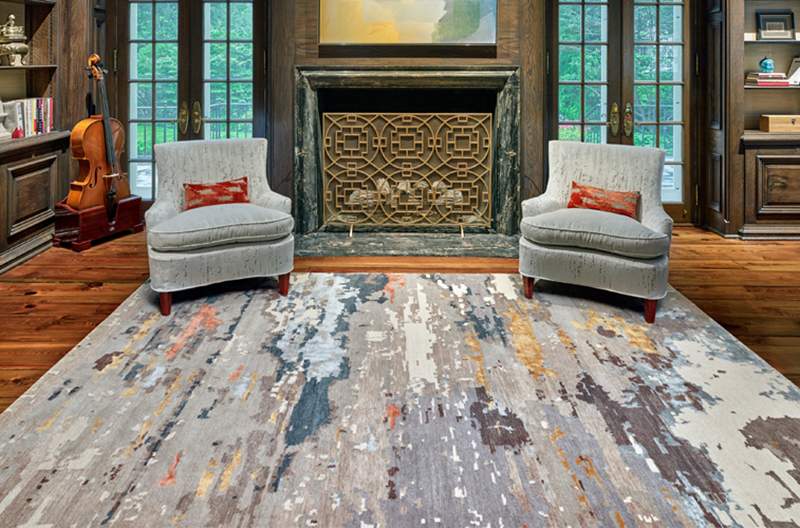 Since its inception, New Moon has been successful in aiding a larger social movement to change the rug industry of Nepal. It has done this by advocating that the standards created for its own production become a part of the standards for the entire industry. By encouraging, supporting, and funding the establishment of Goodweave it has further changed the industry by working to eliminate child labor in the rug industry. Every New Moon rug is tagged with the Goodweave label, assuring the customer that no child labor was employed for its manufacture. New Moon workshops in Nepal are well-known as a world-class model for responsible business. Frequent foreign visitors, from the UN to various human-rights groups, testify to the impact New Moon has made in third-world business examples.
View New Moon's offerings in the StyleRow Marketplace. To find out more about New Moon visit the website.