Andrew Finnigan was introduced to the world of furniture-making through the focused lens of woodturning—a unique form of woodworking where shaped objects are created on a lathe. For years he honed his skills producing work for a variety of artists, sculptors, furniture makers, and contractors. The people he met and learned from through the years, coupled with the wide array of jobs he held, set him on the path to developing a fine-tuned skill set and an appreciation for producing work by hand. It is this that led him to pursue his own line of furniture and open his studio Andrew Finnigan Works in New York's Hudson Valley.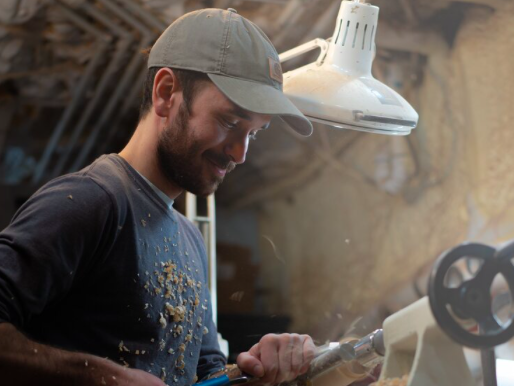 While woodturning is certainly still alive and well, the dedicated "wood turner," is a thing of the past. Finnigan's familiarity and passion for the craft artistry has allowed him to employ more obscure, specialized techniques into his contemporary work. Drawing from classical designs and shapes inspires his own interpretations through a modern lens. Finnigan's thoughtfully designed line of handcrafted furniture is both classic and subtly unique, combining function with aesthetics. Always with an eye towards innovation, he's developed a signature style all his own incorporating unexpected details like spheres, interrupted lines and what he's become best known for—unique leg designs including the offsets, pad feet, and bourrée style feet. As a maker, he employs traditional methods of construction to produce work that will withstand the test of time.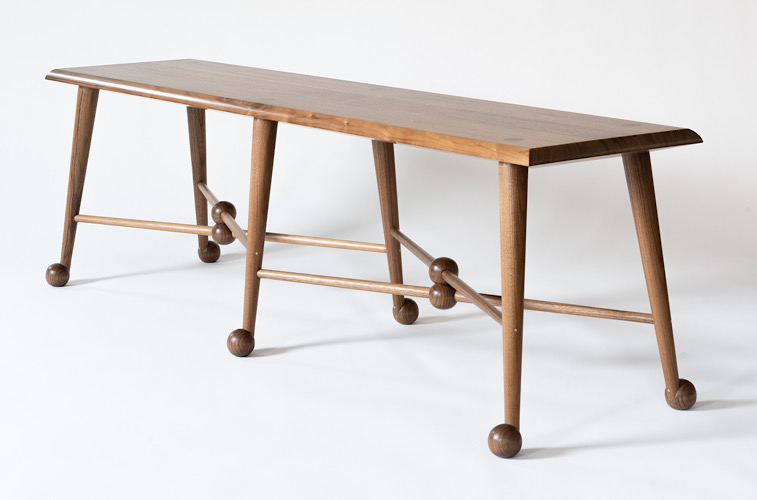 Calling upon local suppliers for all hardwood and leather materials, Finnigan's design and detail is often impossible or impractical to execute through mechanized or modular manufacture. With every piece he creates, he hopes to impart the often enigmatic quality of well-made, handcrafted design into the environment it will inhabit.
Constantly developing new ideas to impart into his designs, Finnigan prides himself on avoiding trends and putting forward his best efforts into creating something unique and novel. Working on new pieces and designs is without a doubt his favorite aspect of his craft. Upcoming for Finnigan is expanding the Bourrée Table line with a console and potentially a dining variant. Amid these uncertain times, he is still taking new orders and working within standard lead times.
Source Andrew Finnigan Works wood furniture in the StyleRow Marketplace. To find out more about Andrew Finnigan, visit his website.