The Ahmadi family has been producing richly textured, beautiful carpets for three generations. Priding themselves on craftsmanship, design and the ability to customize per clients' needs, Amadi Carpets brings the "warmth and spirit of the old world with a contemporary flair," to any space it's in. 
Passionate about preserving the traditional way handmade rugs are made, as part of its mission, the family brought production back to Afghanistan and set out to create a safe work place where women are educated on the techniques and empowered to earn an income for their families. "We employ mostly women weavers as they are the most at need for an opportunity," says the brand.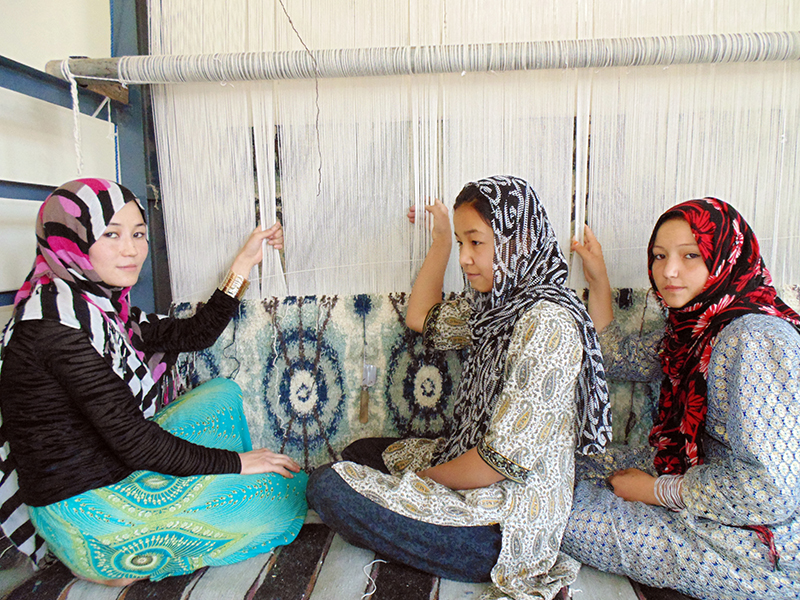 As refugees from the Soviet War who fled on foot out of Afghanistan, the Ahmadi family set out to accomplish "creating generational change by empowering women in a country where 85% have no formal education and are illiterate," explains the brand.
In 2003, the family's dream started to become a reality when they returned to Afghanistan to open its first weaving workshop in Kabul, hiring twenty women from the local area. "The cultural hurdles to make this happen were monumental. [We] went from family to family, attempting to persuade husbands, fathers and brothers to allow their wives, mothers and sisters the opportunity to work… and learn. The process was painfully slow over a three-year period, but has now become a reality for 120 women," explains the brand.
The family's passion is multigenerational. "Samer Ahmadi envisioned to create an educational center for women, with the help of her father founder of Amadi Carpets Inc. they turned their grandfather's house into the Sakhi Women's Weaving & Education Center which was founded in 2017. The women, aged 18 to 70, have been taught weaving skills as well as provided education classes. A bus safely transports them from around the Kabul area to the weaving center. Beyond earning an income and education, the women are helping to impact an entire generation. Because the women now provide for their household, their children who would have normally worked (as is the reality for many developing countries) are given the opportunity to go to school," explains the brand.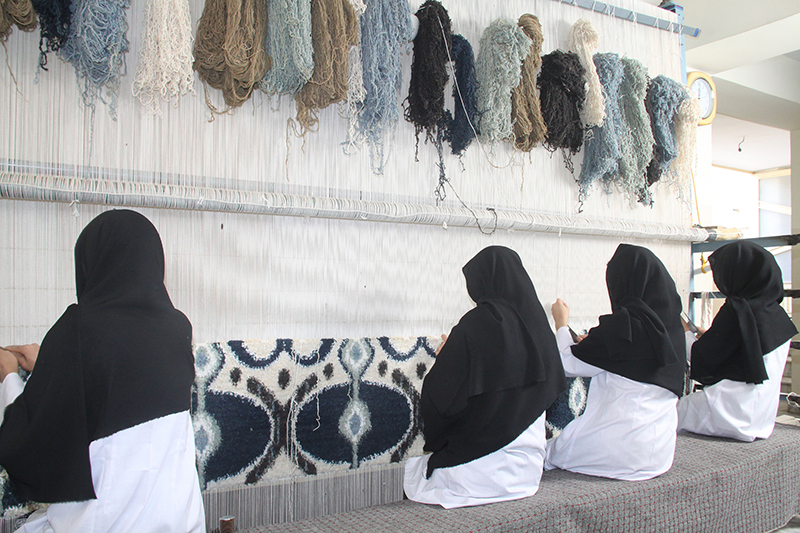 "You help empower one woman and you have empowered a whole family. You empower more than one woman and you have empowered a whole community," explains Zubair Ahmadi, one of the company founders.
Amadi maintains a high standard for itself and as a model for the industry. "We still maintain traditional methods of weaving carpets/rugs as they were centuries ago. Our method is very simple, it is human and nature driven, the raw materials are sourced with local sheepherders and local agents and then the wool is hand sorted (different fineness of wool) to then be hand carded and hand spun to the desired width of yarn. And from there almost any pattern is possible," explains the brand.
The family's production expertise—patterns meticulously worked on by skilled artisans and pieces hand-knotted with hand spun wool—helps to continue to distinguish the brand as it continues to push the boundaries of what is possible in the weaving world. "Our knowledge [is] in the varietal techniques required to produce not only fine rugs but to develop new techniques in achieving desired effects such as texture, pile heights, specific colors and mixing different materials. Our finishing is very crisp and clean, only bringing out the true colors of the rich wool that have been dyed with both vegetal and synthetic dyes. Finishing is an art in itself, what makes manufacturers and makers different, is ultimately finishing techniques and using the best possible natural materials available," explains the brand. The brand relies on wool and silk from Central Asia, as well as cotton and linen.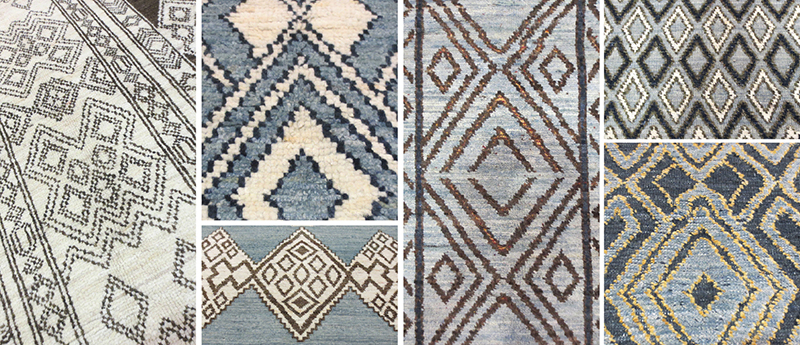 Each rug is made-to-order with custom sizing available for all products. Some items are available in stock. With their entire production made by hand—from hand-spinning the wool to hand weaving each knot into a rug—collections can take three to five years to complete. At least twice a year new patterns to different collections are unveiled at various exhibitions. "It's exciting to bring new works into fruition and our designers and clients appreciate the amount of work and talent that goes into each piece. Our current collections are coming to completion so the process of coming up with new concepts keeps our creative team motivated and allows our weavers to stay employed for years to come," says the brand.
The Amadi West Hollywood showroom is located at 408 N. Robertson Blvd. and features an extensive collection of contemporary and antique carpets, tapestries, cushions and textiles. 
Source Amadi in the StyleRow Marketplace. To find out more, visit their website.