Brian Boggs' keen eye and artistic talent was noticed early on in his life. It was his second grade teacher in Weaverville (just north of Asheville, North Carolina) who first shared her observations of his talent with his mom, suggesting he take up art lessons. 
It wasn't long before young Brian embraced different art forms from pottery and craft projects to drawing and oil paintings. With talents well beyond most 8-year-olds, he took art classes with adults, encouraged to be creative by his family and teachers. During college, he tired of two-dimensional design, which wasn't quite fulfilling his desire.
Luckily for him, Brian stumbled across a book by well-known mid-20th-century woodworker James Krenov, "The Fine Art of Cabinet Making," which opened his eyes to furniture as art. "It was at a time when I was frustrated with my own art, and that frustration kind of cracked me open, open to something else. Krenov's book just stepped right into that opening," says Brian. 
He loved Krenov's work but there was no way he could afford the machines needed to build that furniture. Brian's serendipitously found John Alexander's book  "Make a Chair from a Tree," on his father's coffee table. "Alexander taught an ancient approach to chairmaking using just a few tools. No power tools at all. Not only was the sculptural quality of his chairs extremely appealing and actually exciting for me, but the toolkit was also affordable, so that was a natural starting point. And I lived in and around the woods. So the material was virtually free," says Brian. With that and a meager set of tools, he began.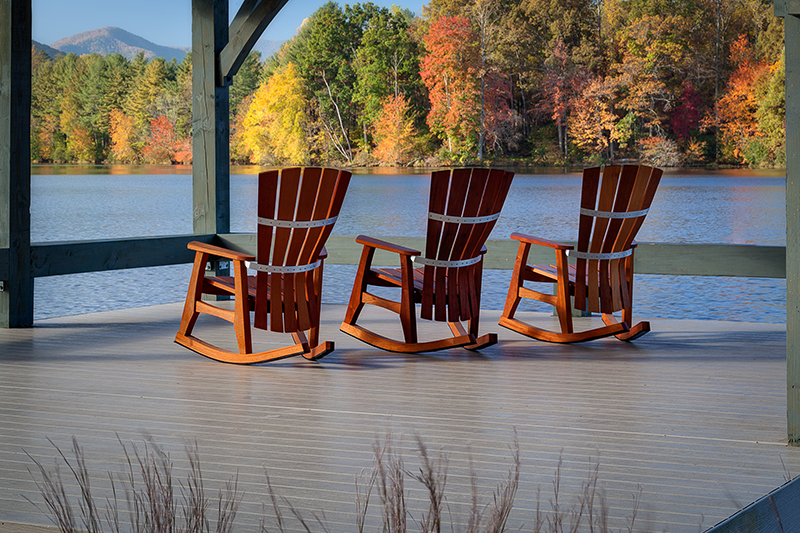 At the time, he was making a living as a carpenter and seasonal tobacco cutter, and was overheard telling a fellow carpenter about his chair-making. "The guy whose art gallery we were building at the time heard me talking about making chairs. He was looking for a chair maker, and even though I wasn't one yet, I was ready to be one. So I made a chair and sold it to him for $85. And I've been filling orders ever since. I was 23 at the time," says Brian. 
It took Brian about 10 hours to create a chair— first cutting down a tree, then starting from a log, splitting every part out, shaping each board and making the seat. "Since I was 13 years old, I had cut tobacco every year to earn money, and that's where I learned speed and repetitive focus, which really helped my early chairmaking," says Brian.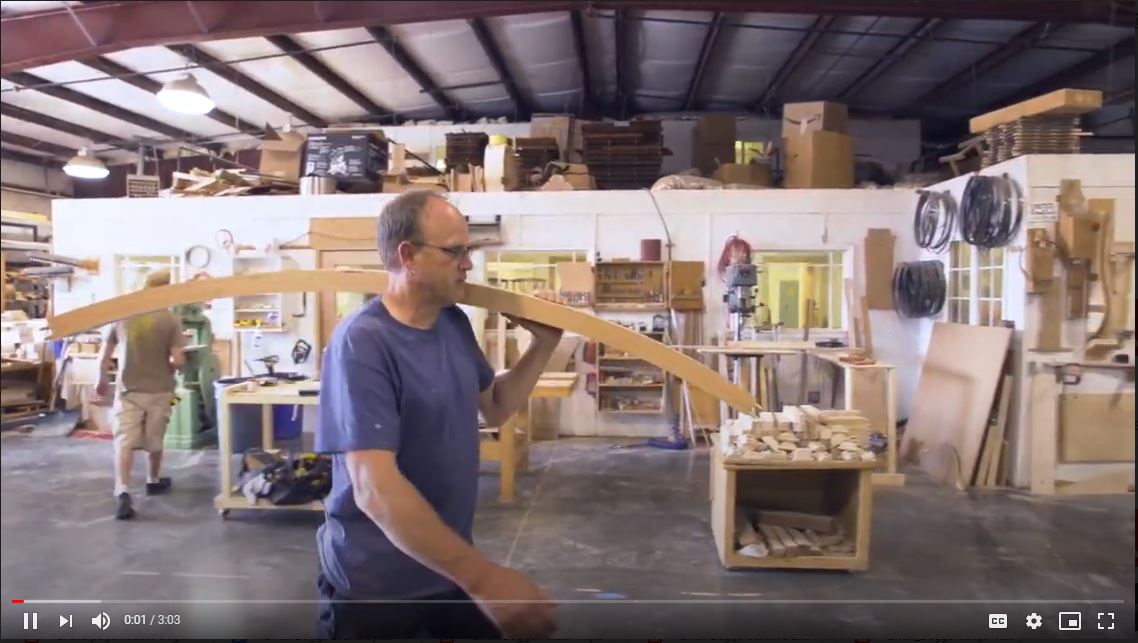 "I copied what was in the book pretty much…just like art students will go to a museum and copy a Rembrandt as a way of learning technique and getting a sense of how to create colors and effects. After the first couple of years, I started playing around with designing, but it was a long time before I really designed something truly original. I just kept improving my design slowly and they sort of organically evolved into a look that was mine and was more contemporary than the old time chairs that I started out with." says Brian.
In his first chair designs, he adhered to the heritage of woodworking found in the Appalachian Mountains he calls home. "I wanted a foundation grounded in the tradition and the old wisdom of woodworking. This was addressed in Alexander's book. And what I loved about that was, the first year I didn't even need glue. The chairs were held together by wood movement…they were built to take advantage of how wood moves to lock the joints together," he says.
His unique learning experience, from his own explorations and testing rather than from institutional forums, has paved the way to truly original concepts. Since the beginning, Brian manifested furniture designs which honor the soul of the tree while integrating the human experience. Each piece embodies technical mastery, pushing his talented craftsmen to create works of art that transform his clients' lives in their homes and businesses.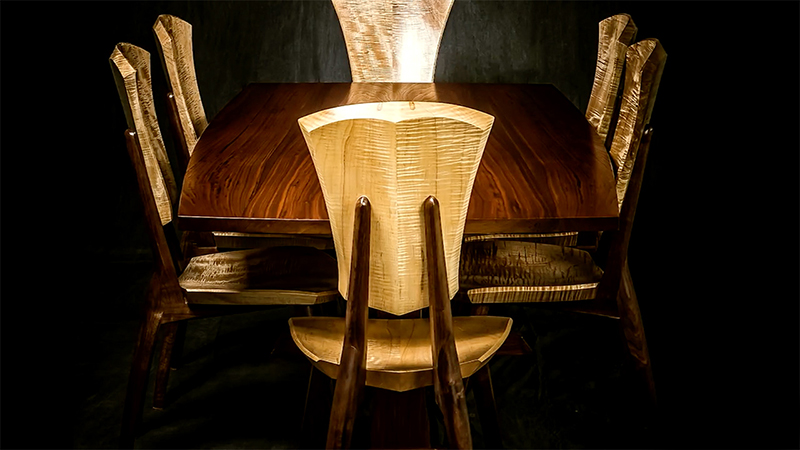 Brian built what would become an icon, the Berea Chair (named after the town in Kentucky where he moved in his early career, did a short stint in college, started a family, and refined his craft). The ladder-back, woven hickory bark seat chair was not only appealing to the eye, but also comfortable for all body types, lightweight and durable. Its success is no surprise. In the mid 90's, Brian grew beyond his small set of tools and developed a series of award-winning woodworking tools now manufactured in Maine and sold worldwide.
After more than twenty years in Berea, Brian decided to make the move back to Asheville, changing the landscape of his life in every way. In 2009, Brian met his wife-to-be, Melanie Moeller. She began working with him as a consultant, realizing what he was trying to do went far beyond making and selling his chairs. "In moving to Asheville, it was a time to rethink what I'm doing because I had done this long enough to the point where I felt like I had met all of the goals that I had before I moved to Asheville, at least in the woodworking world. I'd become fairly well known. I'd written a bunch of articles. I hadn't written a book yet, but I'd been asked to. I've designed a lot of chairs that were pretty, but I needed a reason to not just leave the craft and wanted to know there was value in what I was doing. So I hired Melanie as a consultant to help me sort that out and find my direction, which would be a new one," says Brian. Now partners in both business and life, a decade ago they opened Brian Boggs Chairmakers, a 10,000-square-foot woodworking shop in Asheville's River Arts District where the entire line is created and produced.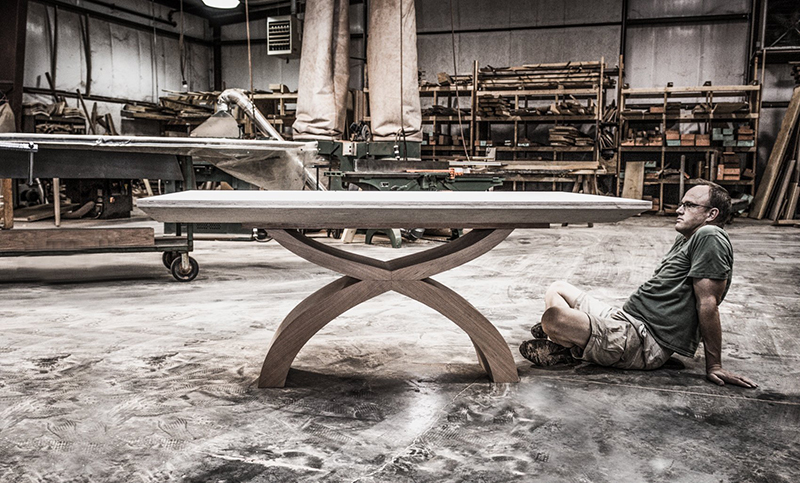 Prior to meeting Brian, Melanie worked as an organizational development consultant outside of Washington, DC for over 20 years. In her work, she facilitated leadership teams around the world in cultural transformation, strategic planning, and team building, working with organizations such as ING Bank, Merck Pharmaceutical and Coors Brewery. She was fortunate to work with some of the thought leaders of our time using forward thinking tools and methodologies to build values-driven organizations. 
Working to transform mature organizations for so many years left Melanie with the desire to build a values-driven organization from its inception. She believed wholeheartedly that company culture impacts engagement and engagement impacts financial performance, so starting from the beginning made sense. "He had a vision, but needed a strategic plan to move forward," says Melanie.  She saw how their two dreams could combine, and they worked together to create a new version of his old company.
Brian continued making The Berea chair until 2018, when he embarked on a new chair design. Remaining true to traditional, he started with pencil and paper, followed by 3D wood models. As a designer of continual innovation, Brian believes he needs to do more than just make a beautiful object. Brian thoroughly considers structure, beauty, and comfort, with every line flowing gracefully to integrate every fiber. Timeless designs emerge naturally as everything he does is grounded in nature and history with an eye to the future.
Brian constantly innovates with new materials and forms to create beautiful custom pieces which push the boundaries of furniture possibilities. His designs, which have expanded to include a variety of chairs, tables, kitchen islands, stools, bookcase, desks, beds as well as an outdoor collection, are all thoughtfully designed and engineered for longevity. "In our culture of mass-production and immediate gratification, we believe that designing pieces to last for generations allows for the preservation of our precious resources. Designing for the human experience means creating pieces which are as comfortable as they are beautiful, ensuring their continued use into future generations," says Brian.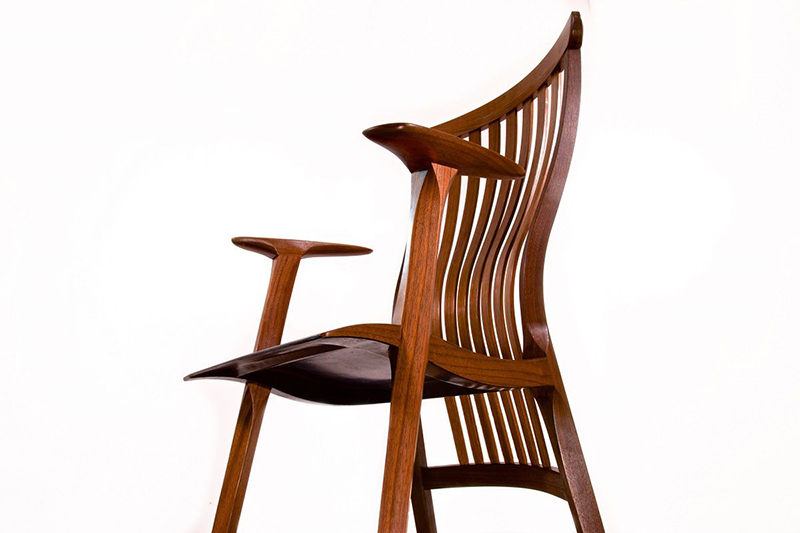 Today, Brian's award-winning designs include the Grand Lily Arm Chair (2016), Sculpted Fanback Arm Chair (2017), and Cio Side Chair (2019), all winners of the GOOD DESIGN™ Award, and the Sunniva Outdoor Swing (2016), winner of the International A' Design Award. He shares his vision and skills on his blog at BoggsBench.com, his YouTube channel, and internationally in his writing for Popular Woodworking, Woodwork, and Fine Woodworking magazines. Brian also helped found the artisan training and sustainable forest management NGO, Greenwood, that has taught artisans and sawyers in Peru, Honduras, and Puerto Rico.
Sustainability is very important to the Boggs' and the brand. They have dedicated themselves to purchasing and acquiring trees from the aforementioned regions in a variety of ways. They use the finest American Hardwoods grown regionally with the exception of their sustainably sourced Honduran Mahogany. That Mahogany is obtained directly from indigenous sawyers through a collaboration with the nonprofit, Madera Verde. To get the most appealing wood with the most predictable behaviors in terms of movement, they buy nearly all material in log form. They receive urban fell from arborists in the Asheville area and work closely with the Biltmore Estate to claim felled trees from their property. They also purchase premium veneer logs from regional log brokers which are slated to go overseas, giving them a second life as luxury wooden furniture here in the US. 
Maple, cherry, walnut, oak, ash, and Honduran mahogany are used along with other figured wood species like curly maple, curly cherry, and ambrosia maple. While his newest iteration of the ladderback, the Cio chair, is usually built from a single wood, the Lily and Sonus chairs typically combine two types of wood, one for the seat and back and the other for the legs. The Sunniva Outdoor Collection is constructed exclusively with their Honduran Mahogany.
"Our talented team of craftsmen hail from around the US and bring a broad perspective of skills to what we do. We train them further in our experimental and innovative techniques as they work on our custom wooden furniture. In our shop, we honor tradition while pushing the boundaries of innovation, requiring each craftsman to hone his skills daily. We have established a culture of continuous improvement and our craftsmen excel as a result," says Brian.
As masters of a full spectrum of woodworking processes, they take steam bending, bent lamination, and shop-made veneering techniques to a level not usually seen in the marketplace. Examples are the stop cut lamination of their outdoor chair backs to increase durability, or their unique integration of linen composite into the Cio and Sculpted Fanback chair seats for stability and durability. When Brian develops a new design, they inevitably have to develop new techniques or alter traditional processes to perfectly suit the fluid nature of their genuinely original work. Almost always starting with the log, they embrace the best of traditional practices of orienting the grain of every piece for the best stability and harmonious visual flow in every part they make. All ideas are thoroughly tested before bringing a new concept into the market.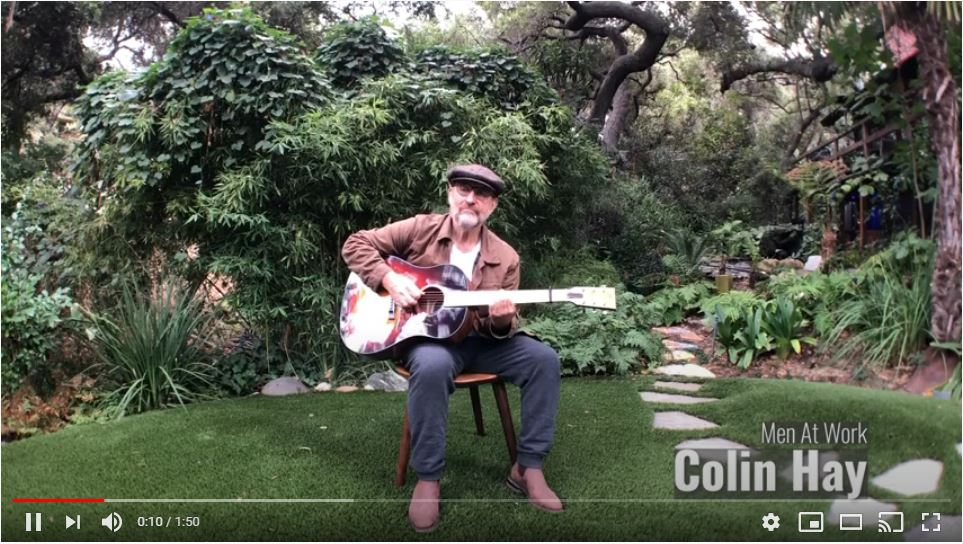 While trends do not drive Brian's design work, they do guide his thinking so that the work they do expresses their original ideas in a language that speaks to the time. As a designer of continual innovation, Brian has undertaken the rethinking of how furniture designs, chairs in particular, are considered. Each custom order has the potential to expand its presence into the company as a new line or collection. These are created on a regular basis, delivering them at least once a month. New chair lines show up about once a year these days. 
Recently launched is a new upholstered chair concept, the Herron. This form includes a dining chair, lounge chair with ottoman, settees and a sofa. Next is a work-from-home piece called BETO which packs all the auxiliary surfaces you need for your home office into a space the size of a side table. And newly released — a gorgeously detailed round backgammon board.
Brian and Melanie's fully realized partnership continues to find success as it moves into its second decade. Source Brian Boggs in the StyleRow Marketplace. To find out more, visit the website.