With work encompassing the fields of painting, applied decorative arts and jewelry design, Denis Collura founded Collura & Co., Inc. in 2003. His mission, "to create expertly crafted lighting fixtures that artfully resists categorization." Working individually and directly with every client, Collura & Co. maintains its boutique studio status and is dedicated to its craft, top quality materials and client satisfaction. 
Having a passion and aspiration to create lighting fixtures that appear to the eye and feel in the hands like fine jewelry, built one at a time at its studio in Pound Ridge, New York, "Collura & Co. is best known for its refined metal craft, beautiful textile applications on shades and a jewel-like use of hand-blown glass," Collura explains. With a unique design aesthetic, artfully fusing "the modern and the vintage with nuances of fin de siècle and art-deco styles, pieces are customized by [the studio's] clients to skillfully harmonize or dramatically contrast with a broad range of interiors," explains Collura
Glass colors and shapes, shade fabrics, metal finishes (including silver, 24-karat gold and bronze) and overall dimensions are all tailored to client specifications. "Close collaboration between the studio and designers is essential and celebrated, often allowing them to arrive at beautifully unique interpretations of their original profiles," says Collura.

Intimately involved with the fabrication of every piece—very few hands are involved in Collura & Co.'s design and production process— "…we are earnestly devoted to making work that reflects the finest standards of craft and quality," says Collura who hopes to bring joy to those that live with any Collura & Co.'s pieces.
The studio works closely with a selective group of locally based master artisans—its hand-blown glass is made by local studio artisans in CT and PA; metal components are machined in state-of-the-art shops in the Hudson Vallery and Northern New Jersey; and fabrics are sourced from renown textile houses in NYC. In addition to its unique design aesthetic and devotion to expert hand-craftsmanship, the studio's friendly and collaborative spirit along with broad range of customization, makes them very easy with which to work. "Those we work with on a recurring basis know that the pieces they customize with us often become the ones most cherished by their clients," says Collura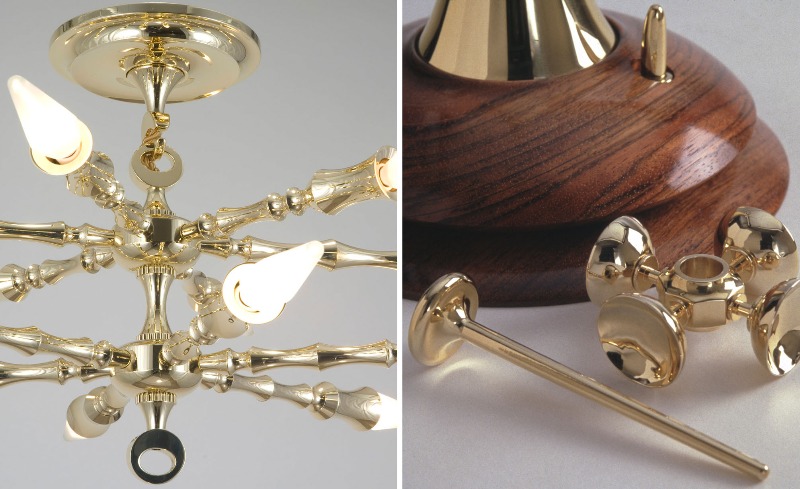 Collura & Co's product development is an organic extension of its studio production. New pieces are released throughout the year via direct communications with clients. On the horizon are limited collections that focus more exclusively on streamlined glass and metal profiles. Due to the highly individualized nature of the process and dedication to the highest level of finish execution, Collura & Co does not offer rush or quick ship options.
Collura & Co. has been featured at the International Contemporary Furniture Fair, the Architectural Digest Home Design Show, the Kips Bay Designer Showhouse, the Hampton Designer Showhouse and numerous interior design and architectural periodicals.
Source Collura & Co in the StyleRow Marketplace. To find out more, visit their website.