StyleRow caught up with the team behind Coolican & Company to shine the spotlight on the many hands that touch their work. Using time-honored traditions combined with innovative technology, they're built to last. Setting out with the simple idea of creating a contemporary model of furniture design, production, and sale that de-emphasizes "fast fashion" and "trend" in favor of quality and sustainability, Peter Coolican turned his passion into a brand. Since its inception, Coolican & Company has grown from a one-man operation to a thriving company that employs a small team of craftspeople and ships furniture around the globe.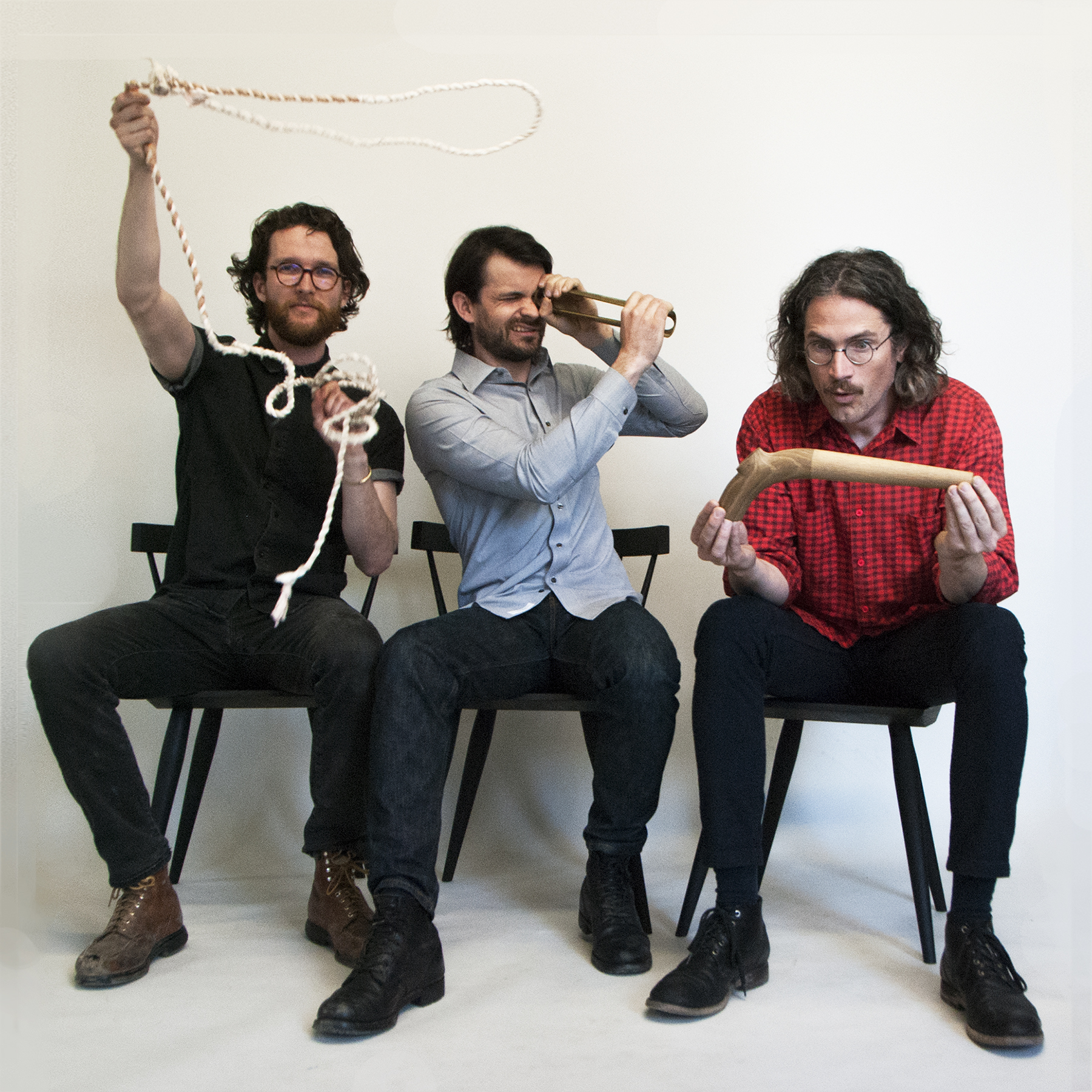 Who are the individuals behind the products?  
All three members of Coolican & Company's leadership are designers and makers in their own right, and they're constantly sketching and experimenting with materials.  The window sills and shelves in the studio are lined with material explorations and experiments with form.  When coming up with a new product, they often refer back to these objects for inspiration. 
Peter Coolican (Principal) Before starting a furniture company, Peter Coolican studied urban systems and economics at McGill University in Montreal.  There, he found himself drawn to architecture classes.  He spent summers building homes, and in his free time began reading more about woodworkers like George Nakashima, Tage Frid, and Wharton Esherick.  In a short period of time, he saw his path veering decisively towards a career in craft and design.    
After his degree, Peter attended the Rosewood Studio School of Fine Woodworking in Perth, Ontario.  Shortly after graduating, he received a call from the office of Canada's Governor General: someone there had seen his work and wanted to commission several tables.  This prompted him to move to Toronto to set up a studio.  That commission was the genesis of Coolican & Company.  Eventually, Peter transitioned from producing one-off custom work to designing a line of furniture that could be produced in small batches.  
Nathan Clarke (Director of Craft and Production) Nathan Clarke began working with Peter Coolican in 2016.  In 2018 became Coolican & Company's Director of Craft and Production. A native of Kingston, Ontario, Nathan grew up surrounded by a family of makers and was naturally drawn to working with his hands.  His formal education took place at Sheridan College in Oakville, Ontario where he studied Furniture Craft and Design. Nathan is a skilled designer and woodworker, with a knack for problem-solving complex fabrication challenges. He is known for his woodturning skills and has spearheaded Coolican & Company's sister operation, Toronto Woodturning, which does custom fabrication of turned objects for artists, designers and contractors. In addition to his work with Coolican & Company, Nathan is also a sessional instructor in the Craft and Design Program at Sheridan College.
Stephen Dalrymple (Creative Director) Stephen Dalrymple began working with Peter Coolican in 2017.  In 2018 he became Coolican & Company's Creative Director. Stephen took a circuitous route to a career in craft and design, studying English Literature at the University of Toronto, then returning several years later to earn a Bachelor of Education.  After eight years as a high school English teacher, he decided to follow his passion and enrolled in the Furniture Craft and Design program at Sheridan College in Oakville, Ontario. Stephen's role as Creative Director is informed by his history as a literature major, believing that objects are more compelling if they are accompanied by a strong narrative. In addition to designing products for Coolican & Company, Stephen manages the company's sales and marketing program and social media accounts. Stephen is also a sessional instructor in the Craft and Design program at Sheridan College.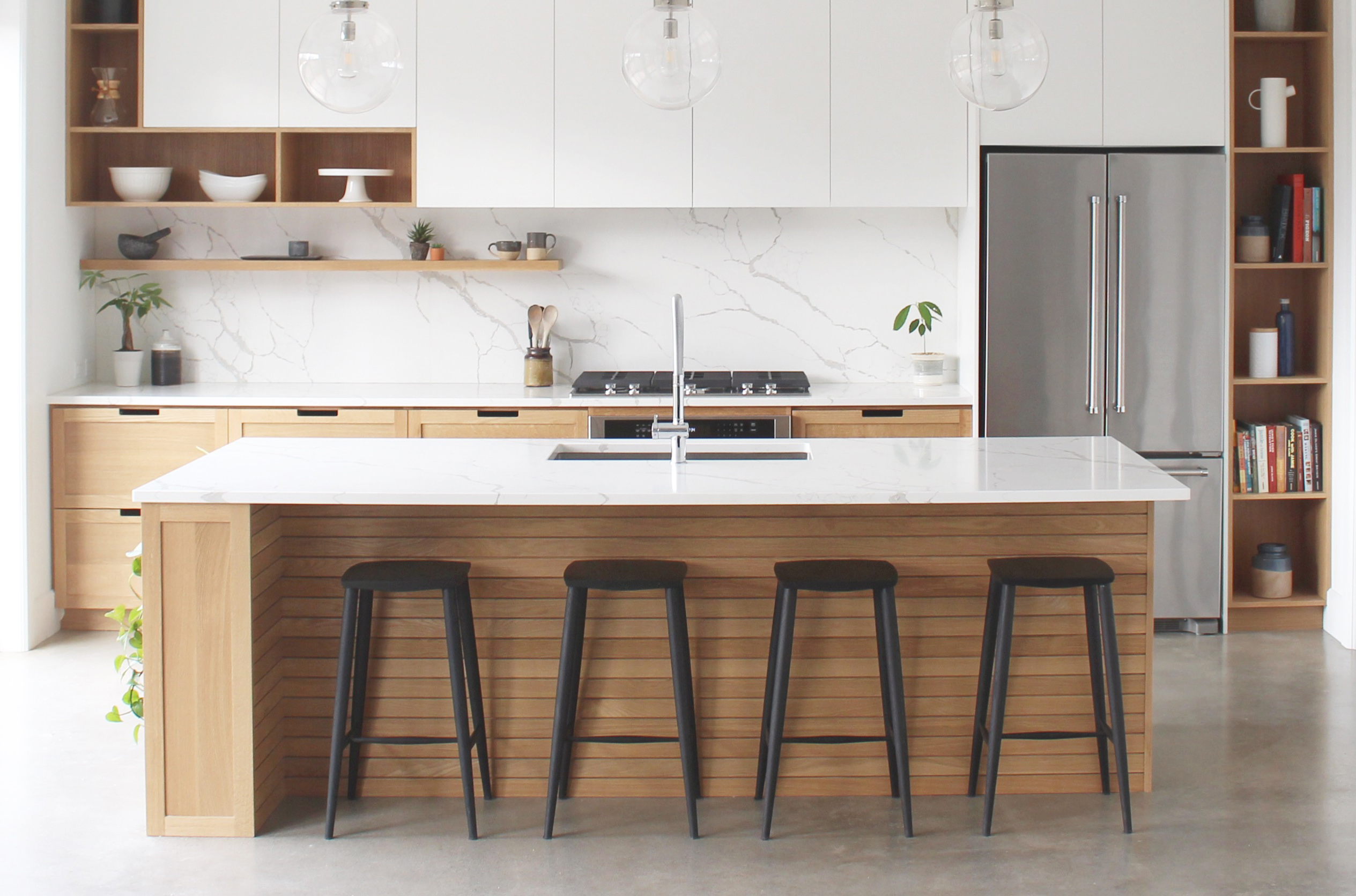 How many hands touch each piece?
We're a small company with a limited number of hands.  Our core leadership team includes Peter Coolican, Nathan Clarke, and Stephen Dalrymple, and for the longest time, it was just the three of us, building furniture and doing everything else that was required to maintain and grow a young company.  
In the past year, we've been able to expand our operation, adding four full-time fabricators to the mix.  The number of people coming into contact with a product is determined by the size and complexity of the product itself, the size of the batch, and the timeline we're working with. For large batches with a quick turnaround (Euclid mirrors, for instance), we generally have all hands on deck.  Smaller batches (or smaller, less complex pieces like our Abbott stool) are often brought to completion by one or two people.  Most of the time, we have two or three projects running concurrently, with two or three people assigned to each project.  Because our team is so small, and there are so few hands touching each piece, each product we put out into the world bears the distinct quality and character that can only be found in small-batch, handcrafted work. 
How long does it take to produce one product?  
That depends on the size and complexity of the product, as well as the size of the batch we're making.  Smaller pieces can be turned around in two or three days while large pieces, such as dining tables, can take two to three weeks to complete. Our goal is to be able to maintain a small inventory of each product so that we can ship pieces out as soon as they're ordered.  Currently, most of our products have a lead-time of 8 weeks, which is the longest anyone would have to wait for something to arrive.  That said, we can get most products out the door within three weeks of an order.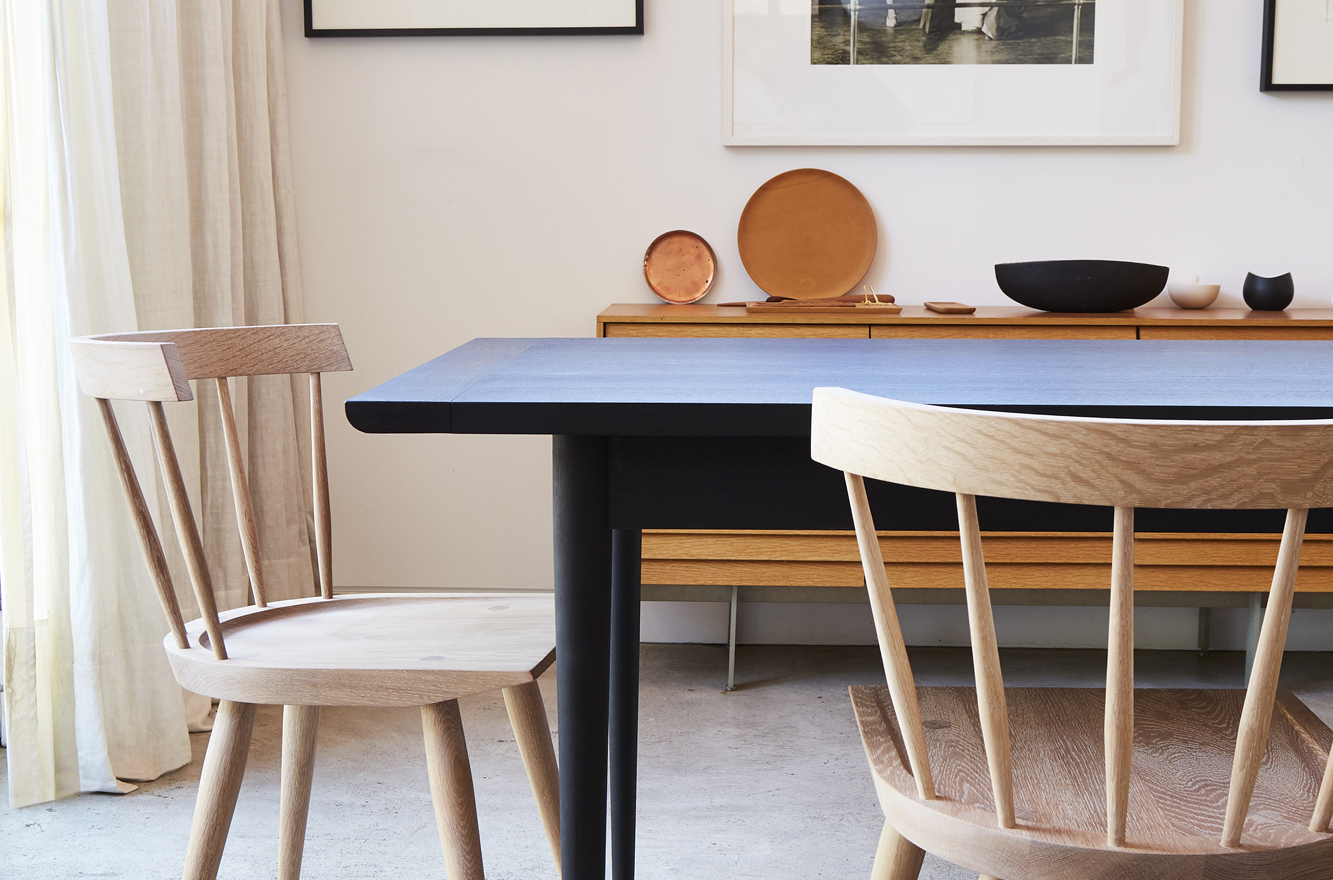 How are your new products conceived?
Products make their way into our collection in a variety of ways.  Our design team meets at the beginning of every year to create an annual product development plan.  This is a fairly pragmatic conversation where we ask ourselves how we can diversify the collection, or if there are any opportunities to fill a hole in the market.
Another avenue of product development is custom work.  In several instances, we've done a custom piece for a client, only to discover that this piece would be a fantastic addition to the collection.  Our Edwin XL lounge chair and Palmerston stools with brass footrests commissioned for commercial projects are perfect examples.  
Finally, there are products that we want to develop for the pure fun of it.  We call these products Easter Eggs – limited-edition gems that are interspersed with the rest of our work, waiting to be found by just the right person.  
Our design process often starts at the computer, where we use 3D sketching software to visualize new concepts.  It is quick and efficient, and best of all it doesn't require us to waste any materials. Once a concept is identified, followed by several iterations of mock-ups and prototypes in increasingly accurate materials, we can have a new product launched within a couple of months. With more complex pieces, like seating, the whole process can take up to a year to complete, so it feels pretty rewarding once we finally are able to share a new piece with the public.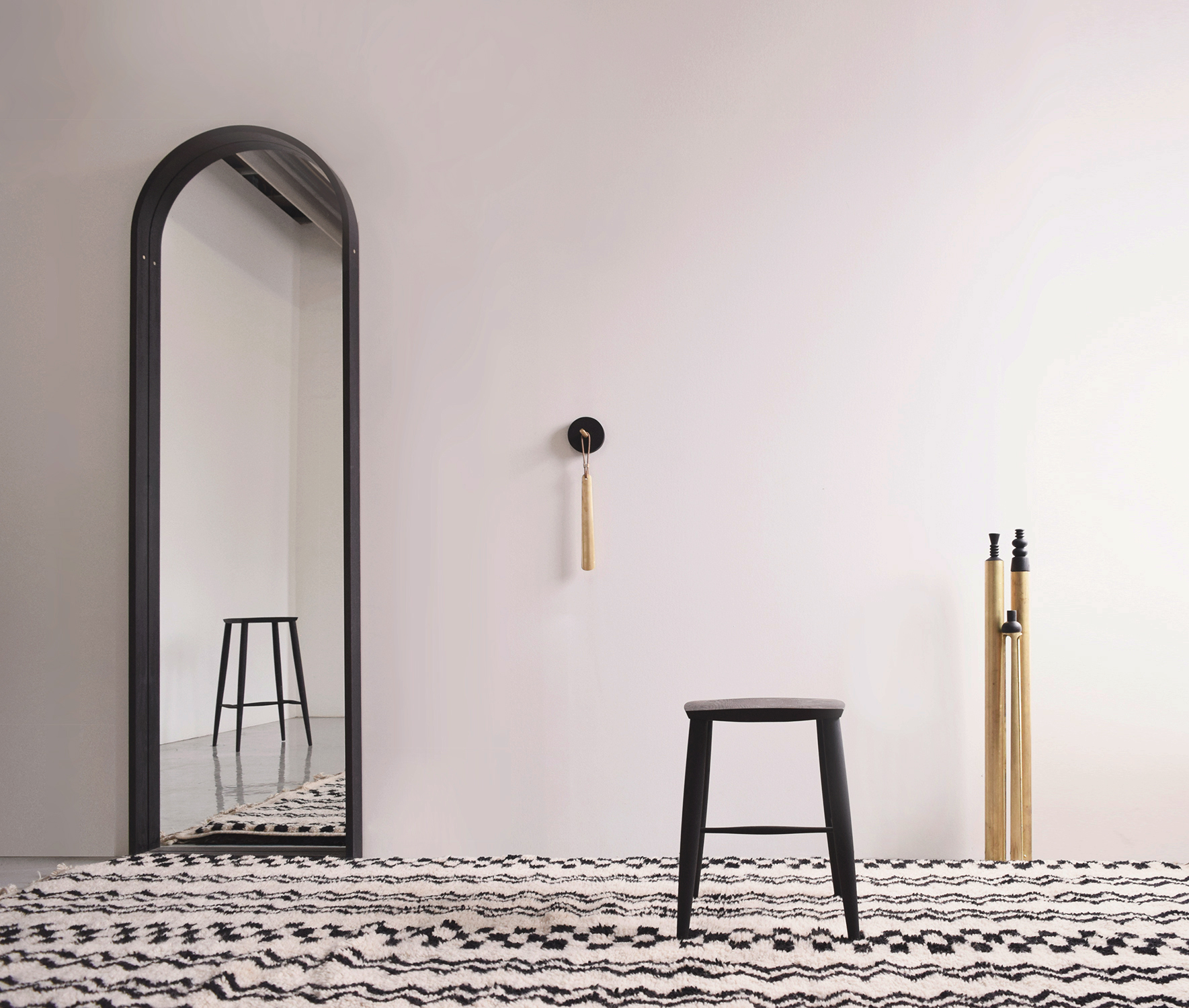 What is your most showstopping piece?  Is it different from your best seller?
In 2018, we launched a seating collection in collaboration with Paris-based textile designer Calla Haynes.  The CALLA collection, which includes a bench and a stool, is inspired by Moroccan footstools, which have a solid wood frame and a woven fabric seat.  What makes this collection unique is the hand-twisted cord we use to make the seat:  It is produced by Calla Haynes in her Paris studio, from the refuse of nearby luxury fashion houses.  We launched the CALLA collection at ICFF in 2018, and these brightly colored pieces were a hit, attracting the attention of everyone who walked past them, a true showstopper. The incorporation of a softer material and a broader color palette really makes them stand out, while our best sellers are our Palmerston stool and our Euclid mirror.
The Palmerston stool, designed by Peter Coolican in 2015, was the first piece the company began producing in small batches.  It's an elegant, understated piece whose traditional construction methods and contemporary lines give it a real timeless quality.  We've sold hundreds of these over the years, and they look great in any kitchen.  In some ways it can be seen as the backbone of the company.  Definitely our most popular piece. The Euclid being a close second, this product was developed in 2017, and shortly thereafter was picked up by Design Within Reach who has exclusive rights to sell the walnut version of the mirror, launching it to becoming a bestseller.

Which elements of each product are handmade?
Most of our work is made with the assistance of mechanized tools operated by practiced hands. We've chosen to employ mechanized shaping tools in a number of situations, both for the consistency of outcome and for general efficiency. At a certain point, however, every product requires a human touch to ensure that it meets our exacting quality standards. The most important handwork occurs in the assembly, sanding, and finishing of a piece.  Doing any of these steps poorly will result in a piece that looks and feels unrefined. All of this handwork is nuanced and requires a lot of experience to get right.  Despite our incorporation of mechanized fabrication processes, handwork is an essential step of the process.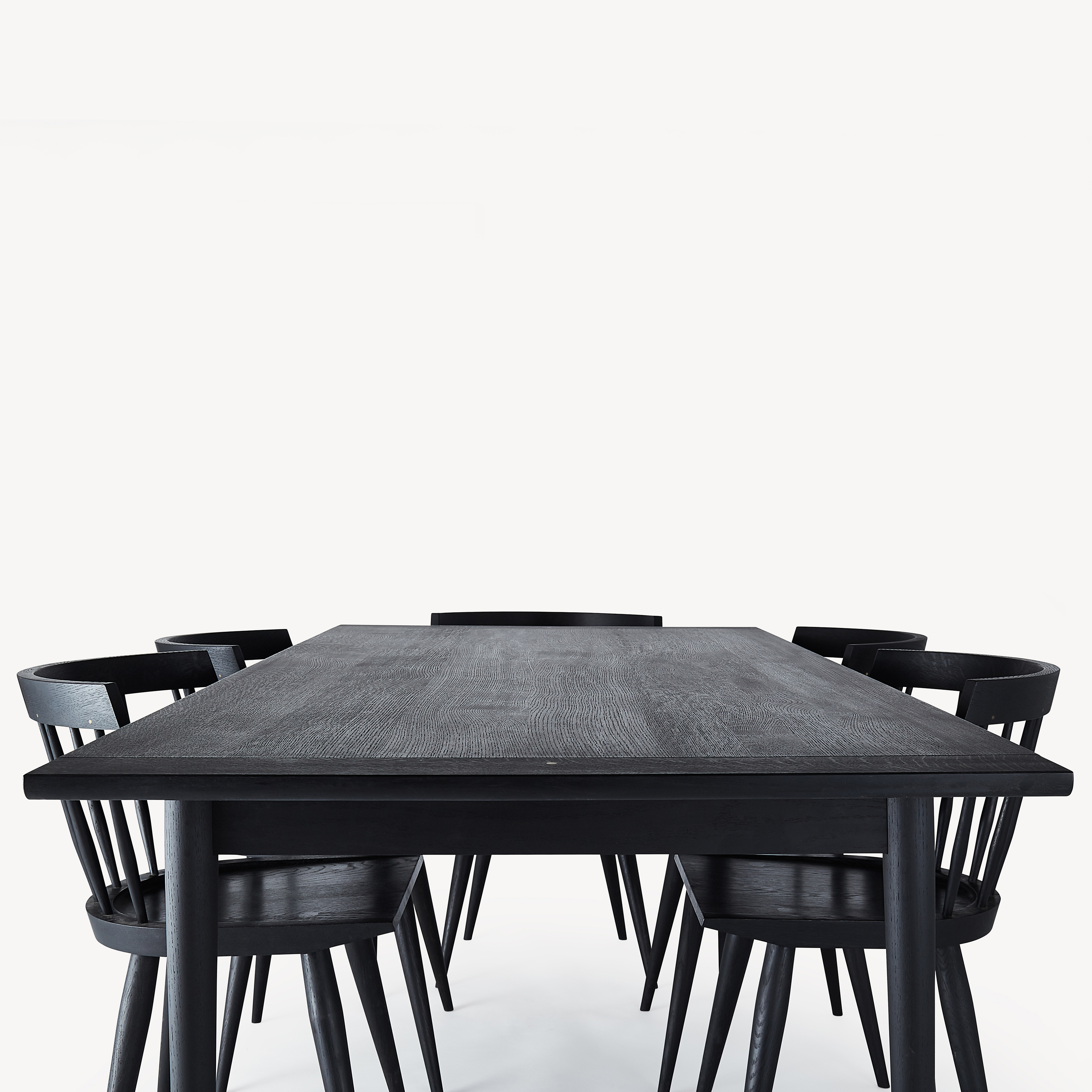 Under what criteria are the materials selected?
We use three major criteria to select materials: strength, aesthetics and alignment with company values.  
In order to last a lifetime – and then be passed on to successive generations – our furniture needs to be strong.  This is why we use native dense and durable hardwoods like oak, ash, maple, cherry and walnut that can take a beating without breaking, making them perfect choices for the construction of heirloom-quality furniture.  Lumber is graded according to quality, and we choose only the highest grade for our furniture. Any parts that don't meet our quality standards are set aside – to be used as fuel in our wood-fired bbqs at home, or for building prototypes. In addition to selecting wood for strength, we seek to achieve uniformity of color in our pieces, so there's a lot of time spent ensuring that all components of a piece of furniture match each other. 
We use only local, sustainably harvested wood because we want to support the continued use of this precious resource well into the future.  We don't use tropical woods in our work, or any other materials that haven't been harvested responsibly.  Recently, we've decided to make our black-stained products out of white ash instead of white oak.  This is partly because the white oak species has been under an increased amount of pressure in recent years as its popularity has grown.  Ash is just as hard as oak, it has a beautiful grain pattern, and because local ash populations are under attack by the invasive emerald ash borer, many high quality ash trees are dying and being cut down.  Because of this, we're happy to shift our focus to Ash, especially if it diverts this beautiful, high-quality material from the waste pile. 
Ultimately, we like building with materials that last.  When our pieces reach the end of their lives, we want them to be able to return to the earth, without any negative impact on the environment.  That's why we finish our pieces with all-natural, VOC-free hardwax oils.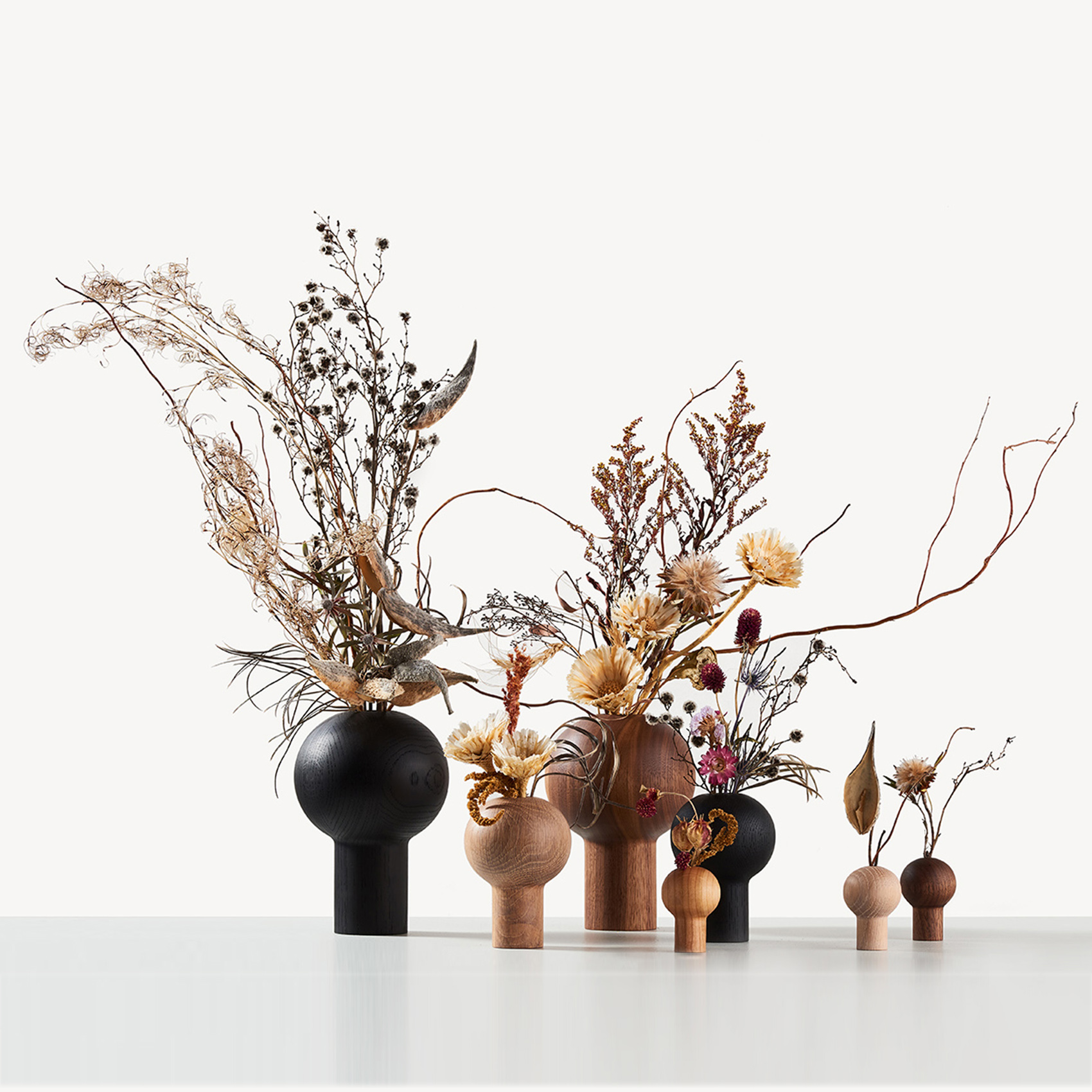 What is your quality control process?
Our quality control process begins with lumber selection.  Because we want our furniture to last for generations to come, we are adamant about choosing only the highest quality materials.  As we progress through a batch we are constantly checking parts for quality.  Before assembling a chair, for instance, we'll check all the legs and spindles to ensure that the grain is straight, and that the component is free of knots or other imperfections.    
Once a piece has been assembled and sanded, it is examined for flaws by our Director of Craft and Production. If something needs to be addressed, the piece goes back to the workbench.  A similar inspection happens after each piece has been stained and oiled. Before we send a product out the door, it has had two complete quality control checks.
What is something you produce with your hands that could never be replicated by machine?
The sanding and detailing of an assembled piece of furniture could never be replicated by a machine.  It's too nuanced a process.  We want to create furniture that looks and feels good.  To guarantee a good feel, we need human hands to assess the smoothness of a surface or the crispness of an edge.  It is this human touch that makes our pieces special.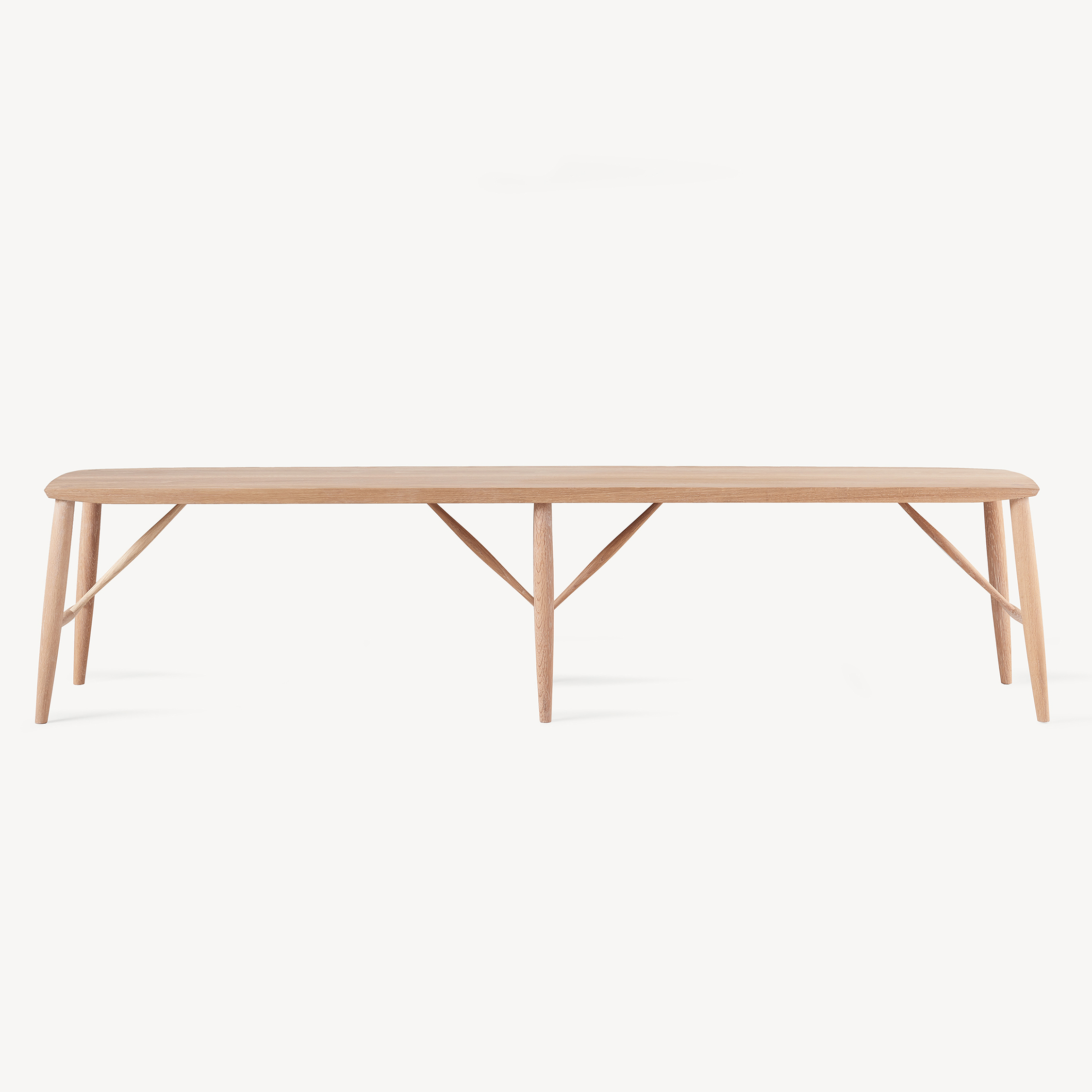 What was Peter's vision?  How has he made sure it is reflected in the team and product?
Peter envisioned Coolican & Company as a space in which the disciplines of craft and design merge.  We aren't just fabricators, and we don't just create from behind a screen – we are craftspeople who are designers; we are designers who are craftspeople.  With a holistic view of the design, manufacture and sale of a product, we feel the product is stronger (and our clients happier) as a result. Aside from the legendary woodworkers Coolican still admires, his work pays homage to Japanese minimalism, Danish classics and especially the Shakers.  He is inspired by the Shaker philosophy, to make something useful, and when you make something useful, don't be afraid to make it beautiful.
We hire people who are both skilled at what they do and curious about learning more.  Our goal is to create a team of thinker-makers.  And although we create in small batches, we avoid an assembly line approach where each person only does one task.  At Coolican & Company we train our team to do it all – that way, each team member knows why a process is done and how it fits into the bigger picture.  To highlight the intersection of craft and design – and our belief that design is an intellectual pursuit – we have a weekly design discussion at lunch.  Everyone is included.  Each week, a different member of the team finds an object in the world that can be viewed through the lens of art, craft or design, and presents it to the group.  We critique it, identifying its strengths and weaknesses, and discussing the emotional impact it has on each of us as viewers.  Overall, we aim to create a culture where people question what they see and, in whatever way they can, improve upon the work we do.
Our company vision is manifested in the product.  We produce thoughtfully designed, impeccably crafted pieces.  And because sustainability is integral to good design – we aim to build things that last both physically and aesthetically.  Our goal is to create heirloom-quality pieces that are passed from one generation to the next.  If something is timeless in its appearance, people will keep it in the family and be less inclined to replace it in the future. 
Finally (on the topic of sustainability), we want to see ourselves as responsible participants in the design economy.  We have a respect for natural materials and a desire for them to be conserved for future generations.  For this reason, we only use sustainably harvested native hardwoods.
Source Coolican & Company in the StyleRow Marketplace. To find out more, visit their website.