Founded in 2011 by professional table tennis player, Michael Zaretsky, designer Bernard Semerdjian, and several dedicated advocates of the sport, 11 Ravens is the premier US-based design and manufacturing company for custom luxury billiards, table tennis, shuffleboard, foosball, air hockey, poker, blackjack, mahjong tables, and more. With over forty years of experience, their talented roster of designers and craftspeople produce high-quality, precision-made game tables, furniture, and more. "The game hasn't changed, but the playing field has." Driven by a passion for innovation and meticulous construction, they value their clients' needs and creativity by providing personalized design services. Their use of ultra-sophisticated design, as well as an unparalleled dedication to quality, puts 11 Ravens in a class all its own. Beloved by designers and high profile clients alike, their personal approach and limitless capabilities means each piece is truly something special.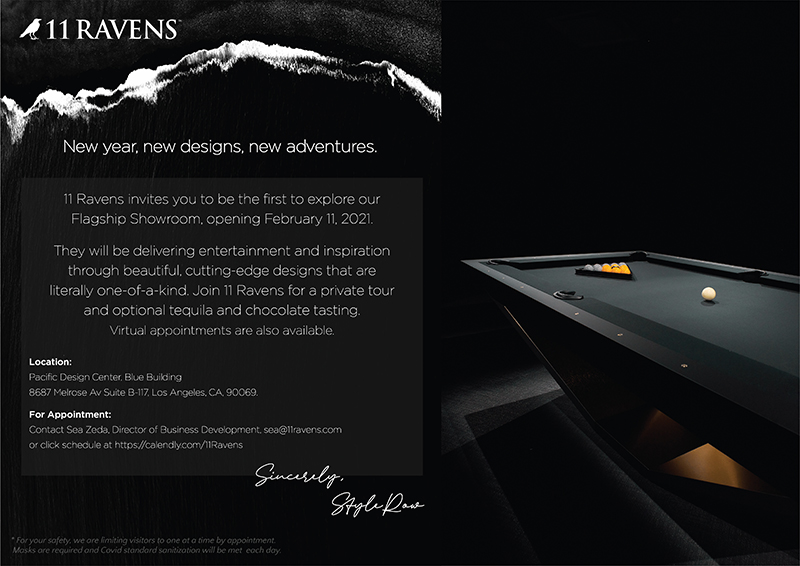 February 11, 2021 marks the opening day for their luxurious, uber sleek Flagship showroom in LA's Pacific Design Center. Register to schedule a virtual tour of the new space and explore the artistry of their game tables. Step inside their world to get lost in their signature edgy, mysterious, and sophisticated aesthetic.
The highly customized tables are made locally in a state-of-the-art facility near Los Angeles by craftsmen who are experts in the construction of game tables that provide superior playing experiences. Each element is carefully handcrafted, sanded, polished, and fitted by our skilled artisans, crafting some of the most unique and complicated table designs on the market. It's the ability to marry function and design so flawlessly without compromise that makes 11 Ravens special and their craftsmen some of the best in the world. Tables can be fully commissioned from top to bottom to make your fantasy table a reality.
The craftsmen's ability to work with a wide range of materials, from woods to lacquers, stains, veneers, laminates, acrylics, metals, and more, set them apart from the rest. They work primarily with Maple, Walnut, Oak, and Teak hardwoods as well as a variety of laminates and veneers produced in the US and Europe. With a constant eye towards innovation, 11 Ravens offer a wide variety of finishes for indoor and weather-safe outdoor use as well as materials made of renewable resources like Hemp Wood.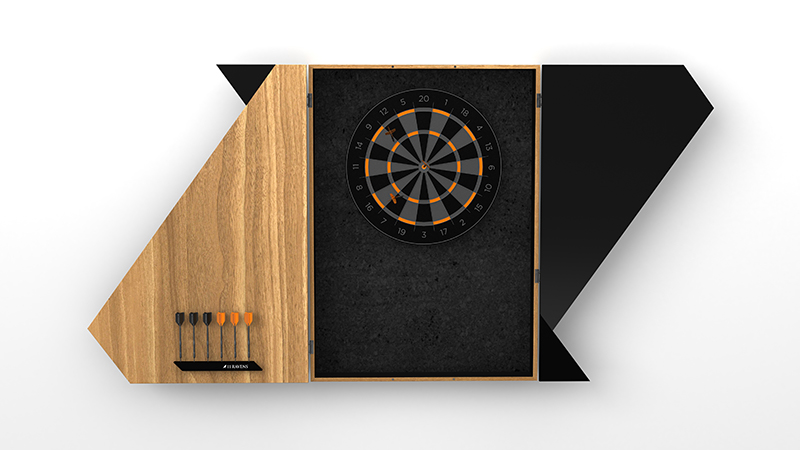 The brand is defined by three core qualities; to be unique, unrivaled, and adamant in their mission. While the word unique may seem overused and devalued, 11 Ravens is the very embodiment of being different in every way. Akin to the precision, passion, and patience required to create a masterfully tailored suit, their tables are works of art that breathe life into the spaces in which they reside. "The 11 Ravens bespoke experience fervidly caters to the patron's every whim. We believe you aren't just getting a gaming table, you are conceiving an icon," says Sea Zeda, Director of Business Development. They're adamant about quality and purpose. No cut corners, no detail overlooked, they ardently make each piece one at a time, with an overzealous commitment to perfection. From limitless inception to flawless production to white-glove installation, they remain determined to be the best.
Beyond extensive press, including GQ, Maxim, Forbes, Robb Report, and many more, they are recognized worldwide as unrivaled in the gaming industry. 11 Ravens has created countless tables for the residences of celebrities and social elite such as Sean Combes, Ellen Degeneres, Steve Harvey, Steven Gerrard, Wayne Gretzky, and Kendra Scott to name a few. Their tables have been used in interiors of high-end hotels such as MGM Mandalay Bay, W Hotel Bellevue, Hilton Key Largo, and Marriott Anaheim, as well as public spaces like Neiman Marcus Hudson Yards, EMP Summerhouse Restaurant, Museum of Ice Cream Miami, Austin City Limits Music Festival and more, as well as featured in TV & film ranging from Westworld to Grey's Anatomy.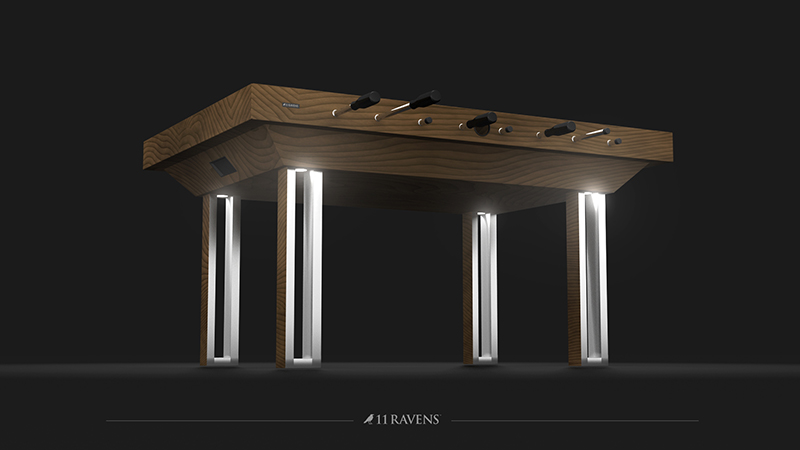 The catalyst for 11 Ravens was a fundraiser in which co-founders Michael Zaretsky, professional table tennis player/coach, and, Bernard Semerdjian, award-winning designer, teamed up to build a Marvel approved and Stan Lee signed, Spider Man themed tennis table for charity to support The Alzheimer Table Tennis Therapy Program in collaboration with Zaretsky's Sport and Art Educational Foundation (SAEF). Today, a portion of all 11 Ravens sales goes to SAEF and Alzheimers Therapy.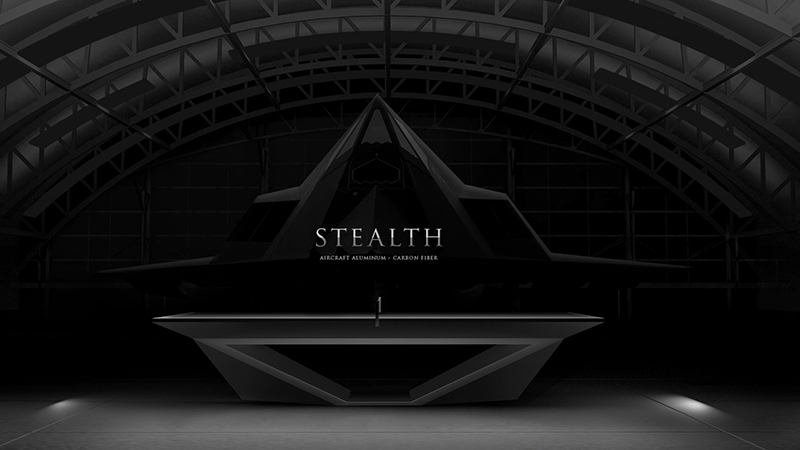 11 Ravens is quickly evolving into a lifestyle brand, encompassing all things luxury with a twist of fun. They are perhaps best know for their convertible pool tables, mixing traditional furniture and gaming. Share a fun game with friends and family before converting your 11 Ravens table to a luxurious dining experience; fun and function all in one beautiful design. 11 Ravens ensures their brand stays relevant through a diverse team, bringing ideas and research from backgrounds in design, the arts, business, professional sports, and manufacturing. Also aided by constant collaborations, partnerships, and activity in multiple overlapping luxury industries they actively draw current and relevant inspiration from this cross-pollination. Through this approach, they also have projects in related luxury industries including tequila, chocolate, attire, game accessories, and sporting equipment like high-end bikes, skateboards, longboards, and surfboards as they work to continue to diversify their offerings and create a lifestyle brand.
Source 11 Ravens in the StyleRow Marketplace. To schedule a virtual tour of their newly minted showroom, contact Sea Zeda. To find out more, visit their website.