A pioneer in the world of online art sourcing, Chrissy Crawford Corredor founded ArtStar in 2010, after noticing a gap in the market between poster-based wall decor and blue-chip fine art. Her mission? To make contemporary art accessible and enjoyable to buy. Keeping quality top of mind, Corredor opted to make her new platform by-invitation-only for the artists it represents. She relies on her talented team of art market experts to travel the world visiting art fairs, galleries and artists' studios in search of the best among them to add to its tightly curated selection.
ArtStar is committed to supporting working artists through its mission to bring their work to a wider audience and drive traffic to their galleries digitally. ArtStar collaborates directly with top contemporary artists to produce authenticated, signed and numbered editions of their work. Prints available on ArtStar are exclusive to the platform and not available in any other galleries. Each print is accompanied by an authenticity card containing the title of the work, the artist's signature and the edition number. The authenticity card maintains the value of the specific edition. ArtStar never crops, color corrects or otherwise alters its artists' work. They launch a new artist every week and give designers a first look on Instagram and via their highly anticipated email program, maintaining the exclusive gallery-like experience.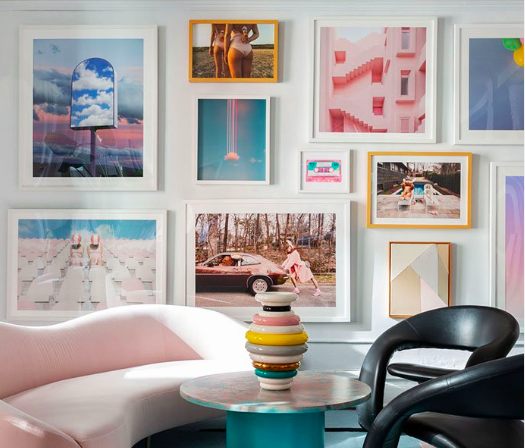 ArtStar's selection is primarily bright photography and colorful abstracts. Think statement-making pieces that create viral conversations. Edited weekly, what you'll find is always in line with current design trends. A personal art advisor is there to assist buyers every step of the way—as much or as little as desired. All pieces are printed to museum quality exclusively with archival Hahnemühle papers and are available in four sizes, with one-click custom framing options. Professional grade frames come in white wood, black wood, natural maple, walnut, brushed silver, brushed gold (with new high-end framing styles coming soon) and are face-mounted onto Plexiglas. All frames have Plexi fronts to prevent breakage and acid-free 4-ply mats. Produced in Highpoint, NC, all ArtStar printing and framing is done in the USA with environmentally friendly materials. All ordered art is custom framed, packed and shipped, so it arrives on your doorstep ready for the wall.
ArtStar has been featured in The New York Times, Elle Decor, Art in America, The Economist, CNN, ARTinfo, Wall Street Journal, ArtNet, domino, Lonny, Glamour, Teen Vogue, InStyle and many other publications.
Current clients of ArtStar include: Soho House, JCrew Concept Stores, Bonobos Guide Shops, Cole Haan, W Residences, Viceroy Hotels, L'Ermitage Beverly Hills, Four Seasons, Sotheby's Preferred, Yotel, Marriott Hotels, The JBG Companies, and the Estee Lauder Corporate Collection.
Sign up for ArtStar's trade program and receive a dedicated sales manager, trade discount, two week lead time, free shipping and more. Source ArtStar's catalog of contemporary art prints in the StyleRow Marketplace. To find out more about ArtStar, visit their website.